Person Of Interest: Season 2
(2012-2013)
SEASON: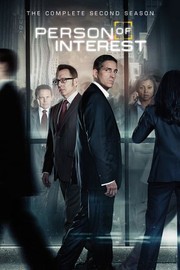 Episodes
Air date: Sep 27, 2012
Reese is feeling at a loss with Finch having been kidnapped by Root aka Caroline Turing, the woman who the machine had identified as a person of interest, but who had set the machine up so that she could find Finch. Reese however does discover that Finch had set the machine up to use him as the contingency if anything were ever to happen to him, although it takes some deciphering on Reese's part to discover how the machine communicates the numbers.More
Air date: Oct 4, 2012
While Reese leaves his newly acquired dog, Bear, with Fusco who will continue to investigate Alicia Corwin's death in New York, Reese and Carter head to Bishop, Texas to follow a lead about Root, and hopefully a still alive Finch who also hopefully did not need to divulge how to access the machine to Root in order to stay alive.More
Air date: Oct 18, 2012
Finch's recent abduction and captivity by Root has affected his psyche, which may or may not be helped by adjusting to life with his new roommate. Despite Finch's problems, the machine still dispenses numbers, the latest being for twenty-one year old Sofia Campos, the daughter of Brazilian diplomat and aspiring Brazilian presidential candidate, Hector Campos. More
Air date: Oct 25, 2012
Reese and Finch are pretty certain that the person associated with the next number dispensed by the machine is going to be the perpetrator of the upcoming crime. He is mob enforcer Riley Cavanaugh, who works for a mid level gangster named George Massey. That is why they, but especially Finch, have mixed feelings when they learn that Riley is the intended target.More
Air date: Nov 1, 2012
Protecting the latest number that the machine dispenses will be difficult for Reese and Finch because of the large number of potential perpetrators of the crime due to the enemies she's acquired through her work. She is investigative New York Journal reporter Maxine Angelis, who has a bulldog mentality when it comes to getting the story. She is working on three stories concurrently, each which have its potential perpetrators. More
Air date: Nov 8, 2012
Reese is out of his element with their next number belonging to Graham Wyler, a seemingly straight laced family man who lives and owns his own small hardware store in suburban Far Rockaway, New York. Reese learns that surveillance in the residential suburbs is much different than it is in the city. That's why Finch sets up a cover for him as a suburban family man who moves in across the street from the Wylers.More
Air date: Nov 15, 2012
The latest number the machine dispenses belongs to heart surgeon, Dr. Madeleine Enright, known as the best in her field. That is why wealthy businessman Oliver Veldt chooses her for his heart surgery, which is kept secret from the public and for which the entire wing of the hospital is to be kept secure for his safety. Finch and Reese are certain that she is the intended target. But they quickly learn that she is the unwilling perpetrator.More
Air date: Nov 29, 2012
The machine unusually dispenses two numbers simultaneously belonging to husband and wife, Daniel and Sabrina Drake, who own their own small but lucrative publishing firm. Their marriage is despite their differing backgrounds, Sabrina who had a privileged upbringing, while Daniel grew up in working class Flatbush. Reese and Finch believe they are the intended targets, most specifically of Maryland militia leader Wade Huggins, on who their firm published an exposÚ. However, they eventually learn that the Drakes are not only the targets, but they are also the perpetrators, as each has contracted a hit on their spouse. More
Air date: Dec 6, 2012
Reese and Finch's next number may be their most difficult to date if only because there is not on the surface any clear indication who he may be a target of or who he may be targeting, and because of the large number of non-connected people he encounters every day. He is Fermin Ordo˝ez, who defected to the United States from Cuba as a major league prospect, leaving behind a wife and child in Cuba in search for this better life for them all eventually.More
Air date: Dec 13, 2012
Reese and Finch's latest number is twenty-six year old Abby Monroe, who they expect will be the target based on basic information they have about her. She is a past honor student having received a degree in engineering. She worked the past year for Homes for Our Returning Heroes, a military charity that supports returning veterans financially, that job Reese and Finch surmise in honor of her brother who was killed in Afghanistan. More
Show More Episodes
Person Of Interest: Season 2 Trailers & Photos
Tv Season Info
With Finch missing -- kidnapped in last season's finale cliffhanger -- Reese enlists Detectives Joss Carter and Lionel Fusco to join the search for his friend on the second season premiere. Will Reese and his team find Finch before its too late? Or will Finch's kidnapper learn of The Machine's location first? Who will be the next person of interest? Find out in these 22 riveting episodes of Season Two.
Genre:
Drama
Network:
CBS
Premiere Date:
Sep 27, 2012
Creator:

Jonathan Nolan

Executive Producers:

J.J. Abrams

,

Bryan Burk

,

Jonathan Nolan

,

David Semel

,

Greg Plageman

Producers:

J.J. Abrams

,

Bryan Burk

,

Jonathan Nolan

,

David Semel

,

Greg Plageman

,

Athena Wickham
News & Interviews for Person Of Interest: Season 2
Friend Ratings for Person Of Interest: Season 2
No Friends? Inconceivable! Log in to see what your friends have to say.
Login
Audience Reviews for Person Of Interest: Season 2