Pretty Little Liars: Season 1
(2010-2011)
SEASON: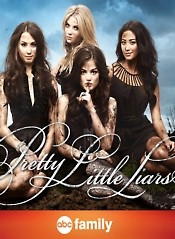 Episodes
Air date: Jun 8, 2010
When their best friend mysteriously vanishes, four girls believe their secrets are safe forever. But when they begin to receive threatening messages, the truth may be only one text away. Set one year after the disappearance of Alison (series star SASHA PIETERSE), the manipulative and vindictive queen bee of their group, the series revolves around four 16-year-old girlfriends Aria (series star LUCY HALE), Spencer (series star TROIAN BELLISARIO), Hanna (series star ASHLEY BENSON), and Emily (series star SHAY MITCHELL) who have lost touch with one another until each begins to receive mysterious messages from "A," suggesting that Alison is watching them. Linked by their former bond and the panic and confusion the enigmatic messages cause, the friends are suddenly reunited, though each girl has her own secrets secrets she wants no one else to know.More
Air date: Jun 15, 2010
The circumstances surrounding Alison's disappearance continue to haunt Aria, Emily, Spencer and Hanna as questions arise about the night she went missing. To complicate matters, the return of Jenna Cavanaugh (recurring guest star TAMMIN SURSOK Home and Away, The Young and the Restless) to Rosewood makes the girls face an unpleasant past and an incident that sealed their friendship forever. Can the girls face what has taken place in their past, especially since "A" won't let them forget? Meanwhile temptation is everywhere as Aria tries her hardest to stay away from Ezra and Spencer won't shy away from her sister's fiancÚ, Wren (recurring guest star JULIAN MORRIS 24, ER).More
Air date: Jun 22, 2010
"The past will come back to haunt you" this saying has never been more true than for Aria, Spencer, Hanna and Emily. As the girls try to pay tribute to Alison's memory, the four friends are faced with unresolved issues. Aria has an unsettling encounter with Byron's old mistress, Meredith (recurring guest star AMBER BORYCKI The Big Bang Theory, Harper's Island). Emily is forced to see Toby Cavanaugh (recurring guest star KEEGAN ALLEN) in a new light. Spencer is reeling in the wake of someone with a vengeance and Hanna is desperate to have her boyfriend forget the "old" Hanna. With "A" taunting them every step of the way, can the girls forge ahead and leave the past behind? Meanwhile, Detective Wilden (recurring guest star BRYCE JOHNSON Popular) uses his new connection to Hanna and Ashley to his benefit. But will he get the answers he's looking for by making himself at home in the Marin household?More
Air date: Jun 29, 2010
Tired of being harassed by "A," the girls decide to put a stop to the anonymous emails and text messages by blocking all unknown users. But just because the mysterious ghost isn't looming over their heads, the girls' problems are far from over. With a surprise visit by a father, a surprise gift from a prospective paramour, getting some unwanted advice and an unwanted scholarly accolade the girls' lives continue to get more complicated by the day. Do the four girls really think they can keep "A" away forever?More
Air date: Jul 6, 2010
Trying to ignore "A" backfired for the girls and now they must pay the penalty. Whether it is a family in crisis, parental praise for an undeserved honor looming over their head or wearing totally unfashionable scrubs while working off a debt the girls must deal with it all. And on top of that the lipstick message from "A" is still haunting them. Meanwhile, the girls must also deal with typical teenage drama the boy kind. A new guy arrives and pushes the status quo, a secret love is tested, a new romance blooms and an old romance floats in the grey area.More
Air date: Jul 13, 2010
The Homecoming decorating committee is knee-deep in balloons and girls are jockeying for position to be the queen, while four friends from Rosewood just try to stay afloat. One girl makes a shocking choice for a homecoming that puts her in a possibly sticky situation. Will the girls be able to protect one of their own or will the evening turn out to be a night they can never forget?More
Air date: Jul 20, 2010
In the aftermath of the disastrous homecoming dance, the girls try to sort out the devastation that is left behind. Parents, boyfriends (secret ones, possible ones and current ones), siblings and friends are all in flux, and if the little liars don't act fast, the situation could go from bad to worse. To top it off, the girls are sitting on some killer information about Toby (recurring guest star KEEGAN ALLEN) that some people would die to get their hands on. Meanwhile, "A" isn't the only one sending Aria text messages, as tensions rise in the Montgomery household. Best-selling author SARA SHEPARD (Pretty Little Liars) makes a cameo appearance as a substitute teacher at Rosewood High School.More
Air date: Jul 27, 2010
After much planning, the day of Alison's memorial is around the corner and the girls are ready to say their good-byes. But when Alison's brother, Jason DiLaurentis (guest star PARKER BAGLEY A Nightmare on Elm Street [2010]), arrives, Spencer, Aria, Hanna and Emily quickly learn that saying good-bye is at the bottom of his list. As Jason takes over, and Detective Wilden (recurring guest star BRYCE JOHNSON) returns, will the girls be able to celebrate Alison's life in the peaceful and positive way they were hoping for? Meanwhile, Hanna is forced to deal with a situation at home that could really cramp her "It girl" status.More
Air date: Aug 3, 2010
A day of SAT testing is put on hold when a violent storm hits Rosewood. But instead of being able to enjoying the postponement of academics, the girls are stuck inside the school dealing with the drama that follows them everywhere. Each girl finds herself in the middle of a tense situation and whether it's between friends, potential love interests, a boyfriend and a parent, or between the past and the present, at the end of the day, the girls will think the taking a standardized test would have been a piece of cake compared to what they went through. Meanwhile, Byron leans on Ashley for advice on parenting as his relationship with Ella takes a turn for the worse.More
Air date: Aug 10, 2010
The discovery of a new piece of evidence about Alison's disappearance brings the FBI to town, and the last thing the girls want to do is go "glamping" (glam-style camping) for a birthday party. But when they get a text that insinuates that "A" will be at the party, Spencer gets the idea that it may be their chance to finally put an end to the threats. Once at the camp party, however, not even the mani/pedi station can lift the girls' spirits when the evening takes a dangerous turn. Meanwhile, the Marin financial situation is pushing Ashley to the brink.More
Show More Episodes
Pretty Little Liars: Season 1 Trailers & Photos
Tv Season Info
Set one year after the disappearance of Alison, the manipulative queen bee, the one-hour drama revolves around four 16-year-old girlfriends Aria, Spencer, Hanna and Emily.
News & Interviews for Pretty Little Liars: Season 1
Friend Ratings for Pretty Little Liars: Season 1
No Friends? Inconceivable! Log in to see what your friends have to say.
Login
Audience Reviews for Pretty Little Liars: Season 1
There are no featured audience reviews yet. Click the link below to see what others say about Pretty Little Liars: Season 1!