Pretty Little Liars: Season 3
(2012-2013)
SEASON: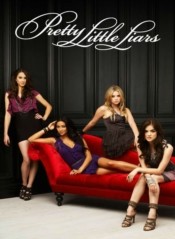 TOMATOMETER
——
Average Episode Score:
N/A
——
Average Episode Score:
N/A
AUDIENCE SCORE
Critic Consensus: No consensus yet.
Episodes
Air date: Jun 5, 2012
In the season three premiere, a summer has passed since Aria, Emily, Hanna and Spencer found out about Mona (series star JANEL PARRISH) being A and the death of Maya (recurring guest star Bianca Lawson). With the terror seemingly over and an alleged murderer now behind bars, the town of Rosewood is slowly healing from old and new wounds. Each of the four girls spent their summer in different ways with Aria taking a photography class, Spencer taking college courses at Hollis, Hanna taking cooking classes with her boyfriend, Caleb (series star TYLER BLACKBURN), and Emily building houses in Haiti. But what looks normal for each girl is not necessarily so, as all four are hardly over what happened. With post-traumatic stress, anger and the acquisition of more secrets, the four girls are anything but fine. Now back together and coming upon the second anniversary of Alison's disappearance, the girls find themselves back on the defensive when a shocking event rocks Rosewood.More
Air date: Jun 12, 2012
Aria, Emily, Hanna and Spencer are on edge with the arrival of a new message from A. This new player is determined to show the girls that he/she means business. After getting a gruesome reminder that A is still calling the shots, Aria, Emily, Hanna and Spencer try to quickly devise a plan on how to deal with this threat and the usual A game that has now been taken up a notch. Spencer and Hanna continue to play with fire as they look for answers, while one of Aria's past indiscretions becomes fodder for A's game. Meanwhile, a still-very-shaky Emily tries to focus on school, but could easily be derailed when she remembers a crucial piece from that night.More
Air date: Jun 19, 2012
With Spencer's mom, Veronica Hastings (recurring guest star LESLEY FERA), now taking Garrett (recurring guest star YANI GELLMAN) on as a client, Spencer is sure that there is a reason forcing her mother to take on the case. But when she starts questioning, she doesn't so much learn why her mother took the case as she stumbles upon a larger Hastings secret. Emily also gets some surprising news about her English exam and fears what those consequences could hold. Meanwhile, Aria agrees to be Jenna's (recurring guest star TAMMIN SURSOK) accompanist in order to keep tabs on her, and Hanna tries to reach out to Lucas (recurring guest star BRENDAN ROBINSON).More
Air date: Jun 26, 2012
Some secrets the girls are holding onto should be shared, while others are best kept hidden no matter what the cost. The truth can sometimes hurt and the girls must take that into account when deciding to reveal secrets. Visiting Mona is driving a wedge between Hanna and Caleb. But would it be so bad if Hanna told Caleb that her visits were because she needed to see Mona to get information about this new A? Aria, on the other hand, is dreading telling her mom, Ella, that her dad, Byron, is back in the dating scene and dating Meredith (recurring guest star AMANDA SCHULL One Tree Hill, Sorority Wars, Center Stage). But wouldn't it be better if Ella found out from Aria than hearing it someplace else? And Spencer needs to know the truth about Melissa (recurring guest star TORREY DeVITTO The Vampire Diaries, One Tree Hill), even if the truth hurts. Meanwhile, Emily finds some solace after meeting Maya's cousin, Nathan (recurring guest star STERLING SULIEMAN The Vampire Diaries).More
Air date: Jul 10, 2012
Jenna's (recurring guest star TAMMIN SURSOK) extravagant birthday party seems to be too good to be true and Aria, Emily, Hanna and Spencer think something else might be up especially when it turns out that Garrett (recurring guest star YANI GELLMAN) is getting a pass out of jail to visit his ailing mother on the same night. The timing can't just be a coincidence, and the girls are convinced it all has to do something with A. With Emily getting an insiders' view working the party, Aria working the crowd as a party-goer and Spencer staked out at the hospital, what could go wrong? The answer is easy: everything. Meanwhile, Hanna's wallowing through heartbreak leads her to a shocking discovery.More
Air date: Jul 17, 2012
After getting a major clue from Garrett (recurring guest star YANI GELLMAN), Hanna and Spencer set out on their separate missions. Hanna sees a perfect opportunity to catch A or to at least see who is helping Garrett out. But her perfect plan starts to quickly unravel, leaving Hanna frustrated and desperate. Spencer tries to figure out the meaning of the clue and enlists Jason's (recurring guest star DREW VAN ACKER) help in the search. Meanwhile, Emily gets another flashback from that night which leads her to a surprising suspect and Aria starts to question Ezra's sudden influx of cash.More
Air date: Jul 24, 2012
With new key evidence in Alison's murder case, Hanna fears that A may be framing her after a visit from Detective Wilden (recurring guest star BRYCE JOHNSON). With paranoia setting in, Aria decides that she has to turn to Mona for answers if she is going to help Hanna. But is Aria ready to face her former tormentor and, more to the point, is Mona ready to give Aria the answers the girls are desperately looking for? Meanwhile, someone from Alison and Jason's (recurring guest star DREW VAN ACKER) past arrives in Rosewood and piques the girls' interest.More
Air date: Jul 31, 2012
Emily is struggling to deal not only with the loss of Maya (guest star BIANCA LAWSON), but the knowledge that someone drugged her that night and how it has now affected Paige (recurring guest star LINDSEY SHAW). Going to make amends with Paige and try to explain the drugged flask ends up leading Emily to more insight of what she did that night. Also, in trying to help Emily out, Spencer turns to Caleb to help crack into a website that might hold answers for them all. Meanwhile, Aria realizes she knows very little about Ezra after meeting his mother and Hanna makes a plea on Mona's behalf.More
Air date: Aug 7, 2012
Spencer and Aria find themselves at Noel (recurring guest star BRANT DAUGHERTY) and Eric (guest star ROBBIE AMELL Revenge) Kahn's party in hopes of saving Spencer's college career. What originally was going to be a quick stop by the party to ask a favor of CeCe's (guest star VANESSA RAY Damages) friend turns into an opportunity for Aria and Spencer to get some answers from Jenna (recurring guest star TAMMIN SURSOK) with a heated game of Truth. But will Aria and Spencer be willing to give up some of their truths to get the answers they are looking for? Meanwhile, Hanna gets another text from A about Caleb.More
Air date: Aug 14, 2012
After learning that Noel (recurring guest star BRANT DAUGHERTY) and his family's cabin had something to do with that night, and possibly the disappearance of Maya (recurring guest star BIANCA LAWSON), the girls work to try and put the pieces together. Hanna and Emily head out to the Kahn family cabin looking for clues linking Maya to the site, while Spencer does some snooping of her own on Noel. Could Noel have had a hand in this after all, or are he and Jenna (recurring guest star TAMMIN SURSOK) just bluffing to send Aria, Emily, Hanna and Spencer down the wrong path? Meanwhile, Aria must deal with the aftermath of meeting Ezra's mom and the information about Ezra's past.More
Show More Episodes
Pretty Little Liars: Season 3 Trailers & Photos
Tv Season Info
The thrilling one-hour drama Pretty Little Liars continues for a third suspenseful season, with Tyler Blackburn and Janel Parrish joining the ensemble as series regulars.
News & Interviews for Pretty Little Liars: Season 3
Friend Ratings for Pretty Little Liars: Season 3
No Friends? Inconceivable! Log in to see what your friends have to say.
Login
Audience Reviews for Pretty Little Liars: Season 3
There are no featured audience reviews yet. Click the link below to see what others say about Pretty Little Liars: Season 3!
Discussion Forum
Discuss Pretty Little Liars on our TV talk forum!