Revenge: Season 1
(2011-2012)
SEASON: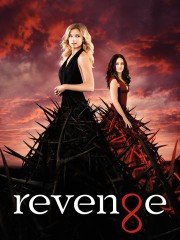 TOMATOMETER
AUDIENCE SCORE
Critic Consensus: A campy, trashy nighttime soap, Revenge is pretty contrived stuff, but it's thoroughly entertaining, thanks to twisty plotting, strong visuals, and a host of interesting characters.
Episodes
Air date: Sep 21, 2011
The hit US drama comes to Channel 4. Emily Thorne (Emily Van Camp) is the newest arrival in the Hamptons. She appears to be a friendly and sophisticated 'girl next door', but has a dark family history and is not what she seems. Seventeen years ago, her father was framed for a crime he didn't commit by neighbours he trusted, and sentenced to life in prison. Emily never saw him again and spent her childhood consumed by rage, loss and betrayal. Now she's returning under an assumed identity with just one goal: revenge. Every social overture she makes is a carefully planned chip at the foundation of her sworn enemies. Emily rents the seaside home she once shared with her father and, with the help of her only friend, events planner Ashley, sets her sites on her first target and puts her carefully organised plan in motion. Her focus unexpectedly wavers when she comes across Jack, a friendly face from the past, makes a new romantic connection with the son of her sworn enemy, and is pushed into an uneasy alliance with the only person who knows her secret. Madeleine Stowe, Henry Czerny and Josh Bowman also star.More
Air date: Sep 28, 2011
Emily sets her sights on her next target, Bill Harmon, a wealthy hedge fund manager and trusted family friend who testified in the trial that wrongfully convicted her father. She uses her connection with Nolan to her benefit, although Nolan is unaware of it, and manages to go on her first date with Daniel. VIctoria's suspicions about Emily are growing by the day and she starts digging to find out a little more about this new arrival in the Hamptons. Meanwhile, the situation over at the Stowaway Tavern is becoming more serious for the Porters.More
Air date: Oct 5, 2011
Getting some unexpected assistance from her new ally Nolan, Emily makes it her mission to destroy the political and professional life of Senator Tom Kingsly, the ambitious district attorney who convicted her father despite knowing there was evidence proving his innocence. VIctoria privately grieves the loss of her one true love while plotting to confirm her suspicions about Emily's past. Meanwhile, Daniel exposes an honest side to his personality that Emily can't resist.More
Air date: Oct 12, 2011
When Victoria takes part in a charity fundraiser in aid of mental health, the event provides the perfect opportunity for Emily to get revenge on Dr Michelle Banks. Banks was the psychiatrist responsible for keeping Emily permanently separated from her father after his arrest. However, Emily's plan adversely affects VIctoria's relationship with Charlotte. Meanwhile, Conrad pays a secret visit to Lydia, Jack and Declan must make a tough decision about the future of the bar, and Daniel's old college buddy Tyler proves to be a bad influence over him.More
Air date: Oct 19, 2011
Lydia returns to the Hamptons determined to carry out her vendetta against Emily and the Graysons. VIctoria suffers lingering guilt over her involvement in David Clarke's imprisonment and death, and also feels vulnerable about the rift with her daughter. Having become aware of his father's affair with Lydia and his friend Tyler's duplicity, Daniel decides to take control of his life and make some important changes. Meanwhile, Charlotte and Declan's rebellious behaviour gets them into a predicament.More
Air date: Oct 26, 2011
Emily goes on the offensive against Frank, the Graysons' head of security, but he won't be defeated easily. When the emergence of some incriminating video footage leads to the termination of Frank's employment with the Graysons, he doesn't go quietly, which spells trouble for Nolan and Emily. Tyler's plotting to break up Emily and Daniel grows ever more devious. Declan tries to get some money together so that he can romance Charlotte in style, but his plan backfires. At the Graysons' lavish Independence Day party, Jack declares his true feelings for Emily.More
Air date: Nov 2, 2011
The Graysons' plans for a low-key 25th wedding anniversary are scuppered when a high-profile story appears in the paper, and there are unexpected guests at an eventful family dinner. Lydia's fate hangs heavy over everyone, and Frank - desperate to prove his loyalty to Victoria - digs deep into Emily's past and uncovers too much...More
Air date: Nov 16, 2011
When an unwelcome visitor with questionable intentions arrives in the Hamptons, Emily struggles to keep her plans on track. As VIctoria's already tense relationship with her family deteriorates, Emily's plot unravels further. The potential return of Lydia's memory as she recovers provides the Graysons with cause for concern. When Daniel leaves his job at the Stowaway to take up a position in the family business, Tyler is resentful and steps up his efforts to become indispensable to Conrad.More
Air date: Nov 23, 2011
When she finds out that Amanda has turned against her and refuses to leave, a desperate Emily reaches out to her mentor, Satoshi Takeda, for advice. Now that Conrad has left Grayson Manor and Daniel is staying with Emily, VIctoria finds herself almost alone in life: her worst nightmare come true. Will her devious plans to split up Charlotte and Declan drive her daughter away from her too? Meanwhile, a scheming Tyler's negative influence continues to grow, and Lydia begs Conrad to help her.More
Air date: Dec 7, 2011
Emily questions Nolan's loyalty when she discovers the video of him with Tyler, but eventually she decides to use the information to her advantage. However, Tyler's hold over the Graysons is growing stronger by the day and he proves impossible to intimidate. As Amanda settles down in the Hamptons, Emily gives her more information about her childhood and history with the Graysons. Things turn ugly between VIctoria and Conrad as VIctoria hires ruthless, high-powered lawyer Ryan Huntley (guest star James McCaffrey) to handle her divorce.More
Show More Episodes
Revenge: Season 1 Trailers & Photos
Tv Season Info
In the first series of this mystery, Emily Thorne (Emily VanCamp) returns to the Hamptons, where she holidayed as a child, with a new name and a plan to make people pay for the damage they inflicted on her family. She begins by setting her sights on the wealthy and powerful Grayson family, led by Victoria (Madeleine Stowe) and Conrad (Henry Czerny), and gets into their inner circle by becoming romantically involved with their son, Daniel (Josh Bowman). But she also develops feelings for her beloved childhood pal, bar owner Jack Porter (Nick Wechsler), who doesn't know she's the little girl after whom he named his boat. … More
News & Interviews for Revenge: Season 1
Friend Ratings for Revenge: Season 1
No Friends? Inconceivable! Log in to see what your friends have to say.
Login
Audience Reviews for Revenge: Season 1
There are no featured audience reviews yet. Click the link below to see what others say about Revenge: Season 1!