Revenge: Season 2
(2012-2013)
SEASON: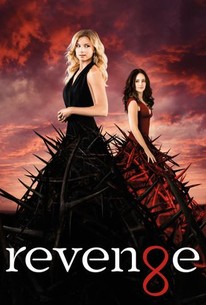 Episodes
Air date: Sep 30, 2012
Season two of the smash hit US drama about a young woman living under an assumed identity to gain revenge on those responsible for wrecking her childhood. Emily returns to the Hamptons after an important trip to Japan to see her mentor, Satoshi Takeda. In search of answers about her mother, Emily takes Nolan to make some enquiries at a hospital psychiatric ward that has long been closed down. Emily realises that she must take steps to stay close to Jack and Amanda, while Ashley has become Daniel's new love interest. After spending 60 days at an addiction recovery centre, Charlotte is determined to gain outpatient privileges, but those who should have her best interests at heart are plotting to keep her confined. Jennifer Jason Leigh guest stars.More
Air date: Oct 7, 2012
Daniel attempts to free Charlotte from the addiction recovery centre, but can't prevent Conrad from getting his hands on her inheritance. Victoria turns the tables on Conrad and betrays the white-haired man's trust, all in one move. Declan unwisely accepts a tempting offer from a dishonest fellow student. Amanda and Jack get the paternity test results. Nolan appoints a young go-getter to safeguard his company's finances. A familiar face steps in to defend Emily when she meets the white-haired man to hear some important information about her mother. Jennifer Jason Leigh guest stars.More
Air date: Oct 14, 2012
Emily asks Nolan to hack into the white-haired man's mobile phone. Realising that Daniel still has feelings for Emily, Victoria makes it clear that she must cut all ties with the Graysons immediately. While searching for the downed aeroplane's flight recorder and posing as a police officer, Aiden encounters Emily's mother, Kara. Victoria makes a bold move at a press conference and welcomes Amanda into the Grayson fold. Declan is drawn further into criminal behaviour but soon gives himself away.More
Air date: Oct 21, 2012
Amanda learns the hard way that to get close to the Graysons is to play with fire when Emily's plan puts her in imminent danger. Jack suffers one misfortune after another, Aiden is blindsided by Kara, and Nolan receives some upsetting news. As Daniel probes his father's financial double dealings, Conrad realises that his son may be plotting against him and appoints Ashley to monitor the situation. And Emily learns the shocking truth about Kara's actions during her childhood.More
Air date: Oct 28, 2012
Emily and Victoria must both deal with troublesome events when faces from the past re-appear in the Hamptons. Padma has been investigating David Clarke's connection with NolCorp behind Nolan's back. Jack grows more deeply attached to his new family, and contemplates selling the Stowaway. Conrad has a devious and unexpected proposal for Victoria.More
Air date: Nov 4, 2012
Emily and Amanda work hard to throw Mason Treadwell off their trail as he digs for information. Victoria and Conrad reaffirm their loyalty to each other by taking their wedding vows for a second time, but the reception is interrupted by the arrival of the police. Jack and his new business partner, Kenny Ryan, throw a grand reopening for the Stowaway. Declan and Charlotte rekindle their old romance. Daniel makes plans to have his father removed from his position as head of Grayson Global.More
Air date: Nov 11, 2012
Mason Treadwell persists in questioning Amanda about Emily's past, driving her to consider desperate measures. Nolan gives Aiden proof that David Clarke invested in NolCorp while he was with Grayson Global. A furious Kara begins to unravel and soon has Victoria and Conrad in her line of fire. Kenny Ryan's brother Nate has big plans for the dockside businesses, including the Stowaway. Emily meets up with Mason and manages to convince him to strike a deal with her.More
Air date: Nov 25, 2012
In an episode that flashes back to the year 2006, Emily embarks on her initial mission under Takeda's training, meets Aiden for the first time and learns about his own quest for revenge, and rescues a vulnerable Ashley. Victoria recalls Thanksgiving 2006 and a surprise visit from her estranged mother Marion (guest star Adrienne Barbeau), during which details of her unstable and destructive upbringing are revealed. Other significant events from 2006 include NolCorp going public and Jack's father Carl tangling with some dangerous characters on the docks.More
Air date: Dec 2, 2012
Daniel's plans to take control of Grayson Global and NolCorp are challenged, while Emily and Aiden delve deeper into the tangled web surrounding the companies. Nolan encounters a figure from his past who is in possession of damaging information. Some incriminating video footage causes a sudden fall from grace for Ashley. When an old friend of Jack and Declan's father turns up for baby Carl's christening, the true nature of the Ryan brothers is brutally revealed.More
Air date: Jan 6, 2013
Emily turns her attention to her next target: Judge Robert Barnes, who presided over David Clarke's trial and dismissed the only juror who believed in his innocence. Victoria manages to involve Emily in her scheme to persuade Daniel to give up his interest in Grayson Global. Aiden learns that his missing sister may still be alive, and Marco tries to make amends with Nolan. Meanwhile, Declan discovers a threat to the future of the Stowaway.More
Show More Episodes
Tv Season Info
In the second season of this mystery, Emily (Emily VanCamp) returns to the Hamptons to continue her mission and, much to her surprise, people from her past show up there as well. Aiden Mathis (Barry Sloane), a fellow former student of Takeda's, arrives to help Emily and as he also completes his own revenge plan concerning his sister's abduction. Before long, he and Emily rekindle the flame they had years ago. Also resurfacing: Emily's mother, Kara (Jennifer Jason Leigh), who was long thought dead; and one of Emily's foster siblings, Eli (Collins Pennie). Emily of course reconnects with many familiar faces, including parents-to-be Jack (Nick Wechsler) and Amanda (Margarita Levieva); and Nolan (Gabriel Mann), who strikes up a romance with his company's new CFO. Victoria (Madeleine Stowe) is less than thrilled to see Emily back, but she and Conrad (Henry Czerny) have bigger problems—namely, the Initiative, a shady group that's helped them in the past and to which they're indebted. As the season progresses, the Initiative grows greedier with their requests, and they're not above threatening to kill Daniel (Josh Bowman) if the Graysons don't cooperate.
Genre:
Drama
Network:
ABC
Premiere Date:
Sep 30, 2012
Executive Producers:
Audience Reviews for Revenge: Season 2
½
The tantalizing television series Revenge delivers a thrilling second season full of mind-blowing twists and turns. Picking up several months after the Season 1 finale, Emily Thorne renews her quest for revenge against those who setup up and betrayed her father, and comes to discover that the conspiracy reaches beyond the Grayson family; meanwhile Nolan's company come under attack in an attempt to gain control of a secret virus program that could be used as a weapon. The season has some rough patches where it transitions between the main story arcs, but it finishes exceptionally strong. And, recurring guest stars Jennifer Jason Leigh and Michael Trucco make for intriguing new characters. While it may be a little cheesy and trashy at times, Revenge's second season is incredibly entertaining and fun to watch.
Discussion Forum
Discuss Revenge on our TV talk forum!