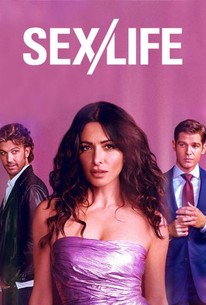 Where to watch
Subscription
Rate And Review
Sex/Life: Season 1 Photos
Audience Reviews for Sex/Life: Season 1
Its really too bad because I like the actors that are in it, but the storyline is not for me.

I feel really dissatisfied and disappointed by the content provided for the Netflix audience. I watched it like it's something good for sex education. But it's completely horrible. The last moment like I feel, it didn't make any sense.

This show angers me in so many ways. This woman has a fairytale life, beautiful children and an amazing husband who works his ass off to do treat her like a queen. Brad has the maturity level of a college frat boy and no impulse control. She was a terrible mother from the moment he came back and it's NOT okay

I thought this was great! At long last a show that takes sex and desire seriously, especially of women. Can't wait to see where they are taking the story in season 2!!

Eye roll, face palm. In a show that is overburdened with feminist tropes it's saddening that it backfires with the primary take-away of how vile the female characters are. It's becoming apparent that Netflix no longer understands how to connect with women by writing (at least some) likeable female characters we can connect with.

A show that conveys when women worship the penis all your dreams come true could not be more misaligned with what women value. Netflix and Hollywood in general seem to be riding the wrong horse and delivering more of an insight into their shallow existence than anything else.

I am giving this low rating because of the last scene, because from starting to end what it is shown completely makes no sense with the end scene, from starting to end everything makes sense and understandable, some people may they do compare(between husband and their exes) with their past and think about the choices they made, but even though after she knew that because of her sex stories written in her journal her life is tearing apart yet she keeps on writing about her sex experience with her exes I felt it ridiculous, even to some extent it can be agreed but apologising so many times and keep on telling to do fresh start with her husband in the end she run into her ex makes really inhumane( after taking so many chances from her husband). At one time she was about to have sex with her ex but the series of messages from her husband alarms her and went back to home with a single breath, after coming home when she didn't saw her children and her husband in the home she crumbled and confessed that she will never see him and his chapter is closed yet she met him again personally in front of her house and again she told her husband that this is the last time and to give last chance. When she felt her husband is growing apart and he is avoiding her she begged for fresh start again and again but when everything was coming to normal and realized that 85% life satisfaction is nothing but 100% and it is more than enough to lead a beautiful life and she is satisfied with that because most of the peoples struggles to have that big 85% but after all these in the end she ran into her ex and said to have sex. Even this can also be acceptable If she didn't had any childrens, even after experiencing such hazardous situations like separating from her husband and children the last scene I thought it didn't make any sense.

Why am I getting upset over a TV series! It's just a show! Is it? Feel horrible for Cooper and the kids. I'm fuming right now lol jeez never has a series upsetted me like this. It's just a penis she'll get over it too, and he'll get over her emotional ass and there still there won't be happy ending. Hope Coop stays single! Nobody's worth it but your kids.

Billie incessantly and lustfully oscillates between an impotent husband and an irresponsible ex-boyfriend like the juvenile university drop-out that she is, condemned to a lifetime of dissatisfaction because of her blindness to true, authentic masculinity. In brief, she needs a Ron Swanson, but I'm not sure she deserves one. "A steak dinner. A glass of Lagavulin whiskey then vigorous lovemaking for two hours and we're both asleep by 8:30." -- Ron Swanson

As a half-assed feminist, I can't see any women's awakening sexually. The heroine is just addicted to the male protagonist's huge penis and sexual ability . The plot is despises women and deny women's identity and self-awakening. Simple and crude try to superficially packaging all dissatisfaction into sexual thirst, as if women always need a thick penis, disappointing!
See Details