Six Feet Under (Pilot)
EPISODE: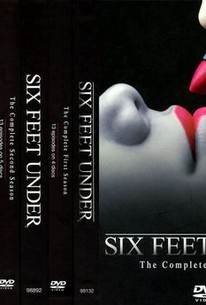 Episode Info
The premiere episode of the HBO drama Six Feet Under -- which was created by Alan Ball, the Oscar-winning screenwriter of American Beauty -- introduces viewers to the members of the Fisher clan, a family who owns and operates the Fisher and Sons Funeral Home in Los Angeles. After Nathaniel Fisher, the family patriarch, is killed in a Christmas Eve car accident, his wife and children find themselves having to cope with the myriad dramas that have been catalyzed and exacerbated by the tragedy. Chief among these is the homecoming of Nate (Peter Krause), the prodigal son who left the family business to work in Seattle. Upon his return, he discovers that his mother, Ruth (Frances Conroy), has been having an affair with Hiram (Ed Begley Jr.), a hairdresser; his sister Claire (Lauren Ambrose) has been dropping crystal meth; and his brother David (Michael Hall) has been conducting a closeted gay relationship with Keith, a police officer. Nate's one source of relief comes from Brenda (Rachel Griffiths), a woman he met on the flight from Seattle and with whom he quickly finds himself engaging in raunchy broom-closet sex. But their affair -- and the death of Nathaniel -- is overshadowed by both the intentions of a rival funeral company to buy out the family business and the discovery that Nathaniel wasn't exactly the man his family thought it knew.
Six Feet Under (Pilot) Photos
Discussion Forum
Discuss Six Feet Under on our TV talk forum!