Out, Out Brief Candle
EPISODE: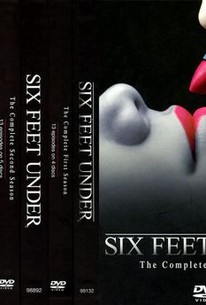 Episode Info
Fisher & Sons enters the age of modern marketing in this episode of HBO's Six Feet Under. When a collegiate football player collapses from heat exhaustion, his death hits home with Nate (Peter Krause), who continues to hide his brain disease from his girlfriend and family. He puts on a brave face, however, for an intimate little dinner party to which Brenda (Rachel Griffiths) has invited the man who took her virginity (Tuc Watkins) and his wife. Meanwhile, Federico (Freddy Rodriguez) hits up Nate and David (Michael C. Hall) for a loan to help cover the down payment on a house for his family. Instead, however, the Fishers decide to invest in a "casket wall" -- a display case of all the latest coffin models. Federico's wife, Vanessa (Justina Machado), decides to ask her sister for the money, which poses a threat to Federico's manhood. Meanwhile, the threat of a takeover looms as Mitzi Huntley (Julie White), a feisty Kroehner exec, fires Matthew Gilardi (Garrison Hershberger) and starts pressuring the Fishers herself. David tags along when ex-boyfriend Keith (Mathew St. Patrick) visits his recovering addict sister, Karla (Nicki Micheaux), and her daughter, Taylor (Aysia Polk). Claire flies off the handle when she learns that her boyfriend, Gabe (Eric Balfour), has stolen embalming fluid from her basement to sell joints dipped in the stuff. Robbie (Joel Brooks), Ruth's resentful co-worker at Nikolai's flower shop, implores her to attend his graduation from The Plan, a self-help movement. And finally, Nate opens up to David about his illness. "Out, Out Brief Candle" marked season two, episode two of the made-for-cable drama. Actress Kathy Bates, who previously helmed the feature Dash and Lilly and episodes of HBO's Oz, directs.
Out, Out Brief Candle Photos
Discussion Forum
Discuss Six Feet Under on our TV talk forum!