The Invisible Woman
EPISODE: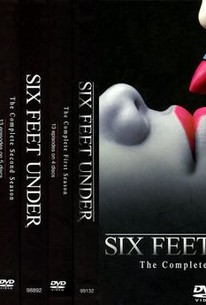 Episode Info
The death of an apparently friendless woman hits home with Ruth (Frances Conroy) in this episode of HBO's Six Feet Under. When Emily Previn (Christine Estabrook) chokes to death, Fisher & Sons can't find anyone to attend the funeral, but Ruth takes it upon herself to make the event special anyway. David (Michael C. Hall) tries to forge a special friendship with blind date Ben Cooper (Adam Scott), but the nascent romance is interrupted by David's cop ex-boyfriend, Keith (Mathew St. Patrick). Distraught over having accidentally killed a suspect, Keith finds solace of a decidedly carnal nature with David, then, in a fit of guilt about his unsuspecting boyfriend, announces that he doesn't want to see David anymore. Meanwhile, Claire (Lauren Ambrose) prepares for the SAT, freaks out when her friend Parker (Marina Black) cheats on the exam, and is surprised to learn that her school counselor, Gary (David Norona), senses sexual tension between himself and Claire. Nate (Peter Krause) experiences some sexual tension of his own when Brenda (Rachel Griffiths) continues her sexual dry spell. Ironically, though, she befriends one of her shiatsu clients (Kellie Waymire) -- who just happens to be a prostitute -- and volunteers to play the voyeur role in the fantasy of one of the woman's clients. This accomplished, she stages a dramatic about-face regarding her ambivalence to Nate: She proposes. "The Invisible Women" marked season two, episode five of the made-for-cable drama.
The Invisible Woman Photos
Discussion Forum
Discuss Six Feet Under on our TV talk forum!