Skins (UK): Series 6
(2012)
SEASON: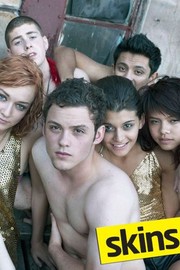 AUDIENCE SCORE
Critic Consensus: No consensus yet.
Episodes
Air date:
E4's award-winning drama burns into a sixth series. The gang are on holiday in Morocco. The villa may be half finished, in the middle of nowhere and without running water, but they've found a load of weed under the floorboards so they don't care. That night Alo's party-tracking skills are put to use and they join the party at a flash nearby villa owned by Luke. It's an amazing party with the best music, drink and drugs flowing. Franky, unhappy in her relationship with Matty, finds herself drawn to Luke. The following day, Luke and his mate Jake pay the gang a visit. They're in Morocco on business, and have been stashing their weed in the gang's villa. Luke forgives the gang for smoking it, but tells them he needs the rest back and invites them to a beach party.While everyone parties away on the beach, Luke and Jake make their move. Matty and Franky are drawn into a situation beyond their control which will have repercussions for all of them..More
Air date: Jan 30, 2012
Professor David Blood has banned Rich from visiting Grace in hospital and Rich is suffering. Alo tries to keep him out of trouble with a band practice, but Rich is committed to his love and he stands outside the hospital waiting for Grace's call. Eventually the call comes and Rich finds a way past security and breaks into Grace's room.More
Air date:
It's Alex Henley's first day at college, but he's not worried about fitting in or making new friends. He catches the eye of a fellow student and they hit it off immediately. Alex sees something special in Liv and draws her into his strange and wonderful world. But it can't last. Alex isn't used to having friends, and Liv invests a little bit too heavily in the distraction he provides.More
Air date:
Franky is in a bad place - it's the week of her mock exams and she's unable to concentrate on her studies. Her friends are avoiding her, parental support makes her feel smothered and in her isolation she feels propelled towards Luke. He's bad news, but he feels as if he's the only person who understands her and she's intoxicated by him. Drawn into Luke's dangerous world, she finds an outlet for her anger and frustration. Burning bridges with family and friends, Franky is in more trouble than ever before. But help comes in unlikely forms, and out of the darkness a new friendship is born.More
Air date:
Mini's mum has a pervy new live-in boyfriend who Mini hates with a passion. To make matters worse, Alo has broken the rules of their 'no strings attached' secret relationship and declared his love for her. Mini is trapped; she's lost control of her life and needs to get away. Ignoring advice from her mum and best friend Liv, Mini seeks refuge in the arms of her dad. Gregory's never been around that much, but promises it'll be different this time. He sweeps Mini into his glamorous and grown-up world where she feels a million miles away from her problems, withdrawing even further from her friends. But Mini has a bigger problem that she can't run away from and will ultimately have to face on her own.More
Air date:
Nick is desperately in love with Franky, but it's a one-way street. He has no choice but to accept Franky as his friend and nothing more, while his love for her grows with each passing day. Then Matty gets in touch. He's still in love with Franky and needs Nick's help to get him out of Morocco and back to Bristol. Ever loyal, Nick tries to put his feelings for Franky aside and agrees to help his brother. Torn between his love for Franky, his loyalty to Matty and his fear of confrontation, Nick's life begins to spin wildly out of control until he has no choice but to step up and discover what he's truly capable of.More
Air date:
Alo still has no idea that Mini is carrying his baby. Fed up of trying to get back to the fun times they used to have, he attempts to get over Mini by hooking up with a new girl, Poppy Champion. She's perfect for Alo and Mini is soon a distant memory. Franky's attempts to make him see sense fall on deaf ears. But Alo's childish choices come back to haunt him and he's soon out of his depth. In a lot of trouble and with nobody to turn to, the boy who stubbornly refused to grow up may have finally run out of time..More
Air date:
Liv has been partying with her new best friend Alex ever since he arrived in Bristol. But then he disappears for a dirty weekend just when Liv needs him most. She reaches out to her friends, but finds she is excluded from their lives. With nobody to turn to in her hour of need, Liv is forced to face up to the choices she's made and isn't quite as strong as she believed.More
Air date: Jun 25, 2012
Mini and Franky are still holed up in Mini's bedroom, but with Matty back in Bristol and Mini's ever-growing baby bump, time is quickly running out for the girls. Things come to a head when Mini's heath takes a turn for the worse leaving them isolated and under pressure from family and friends.More
Air date:
It's the end of an era. The exam results are in and Alex is throwing the mother of all leaving parties. Everyone's future hangs in the balance as Franky struggles to confront her past. The group is still in pieces following Grace's death and time is running out for them to make things right.More
Skins (UK): Series 6 Trailers & Photos
Tv Season Info
"Skins" enters its sixth season following the angst-ridden lives of its teenage characters, as they grapple with adolescence. The third generation of students --Franky, Mini, Liv, Grace, Alo, Rich, Nick, and Matty-- are back with a bang as they take a hedonistic holiday in Morocco. This being Skins , however, things do not run smoothly, and the trip has tragic repercussions for the group.
| | |
| --- | --- |
| Genre: | Drama |
| Network: | Channel 4 |
| Premiere Date: | Jan 30, 2012 |
News & Interviews for Skins (UK): Series 6
Friend Ratings for Skins (UK): Series 6
No Friends? Inconceivable! Log in to see what your friends have to say.
Login
There are no critic reviews yet for Skins (UK): Series 6. Keep checking Rotten Tomatoes for updates!
Audience Reviews for Skins (UK): Series 6