South Park: Season 11
(2007)
SEASON: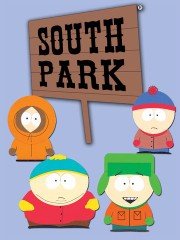 Episodes
Air date: Mar 7, 2007
When Randy sparks public outrage by using the "N" word on live television, Stan approaches Token about his thoughts on the matter. Later, a little person arrives at South Park Elementary for a visit, sending an insensitive Cartman into an uncontrollable fit of hysterics.More
Air date: Mar 14, 2007
Butter's dad has caught his son in what appeared to be a compromising position with Cartman, prompting the concerned father to send his son to camp and "Pray the Gay Away." Meanwhile, Cartman races to track down a photograph of the incident before it makes the rounds.More
Air date: Mar 21, 2007
When South Park Elementary becomes the site of a headlice outbreak and Mrs. Garrison refuses to divulge the name of the student who spread the bug, Cartman launches his own investigation so that the kids will know who to make fun of. Meanwhile, a diminutive louse named Travis realizes that the apocalypse is at hand, and races to warn the lice population of the imminent danger.More
Air date: Mar 28, 2007
Cartman suspects the new Muslim student at South Park Elementary of being a terrorist, and upon discovering that Hillary Clinton will be campaigning in town later in the day he immediately contacts the CIA. Much to everyone's surprise, the CIA detects evidence of a bomb inside Mrs. Clinton, prompting an emergency mission to save the citizens of South Park from certain doom.More
Air date: Apr 4, 2007
Stan is perplex by the tradition of decorating eggs for Easter, and the questions he raises to his father make for some difficult father/son conversation. When the answers to Stan's questions lead him to an ancient secret society created with the specific intentions of protecting the secrets of the Easter Bunny, the curious South Park Elementary student discovers that Bill Donohue and the Catholic League pose the greatest threat to Easter ever known to man.More
Air date: Apr 11, 2007
Mrs. Garrison is fed up with men, but when he attempts to make the class write an essay on The Old Man and the Sea, the boys hire out some Mexican Day laborers to write their papers for them. Unfortunately for the lazy students, the perplexed workers misinterpret the term "essay." Later, Mrs. Garrison decides to become a lesbian. When Persian club owners threaten to take over her favorite bar, the sexually liberated teacher vows to fight for the one place she feels free to be a woman.More
Air date: Apr 18, 2007
As the number of homeless people in South Park begins to grow at an alarming rate, some begin to view their presence as an opportunity while others view it as evidence of a sad state of social inequity. When the vast majority of the population decides to simply ignore the problem, the unyielding quest by the indignant to obtain some spare change quickly spirals out of control.More
Air date: Oct 3, 2007
Upon discovering that he can say anything he pleases if he just claims to be afflicted with Tourettes Syndrome, an emboldened Cartman arranges a special interview with Curtis Hansen on Dateline NBC. But before long, Cartman has lost all control over his vocabulary, leading him down a dangerous path where all filters are off and no obscenity is too extreme.More
Air date: Oct 10, 2007
Stan's father Randy has laid a log so massive that it suddenly makes him a hometown hero, and quickly contacts the European Fecal Standards and Measurements Office in Zurich in hopes of breaking the world record. Randy's quest for greatness is suddenly halted, however, by a certain rock star/humanitarian who isn't afraid to rise to the challenge.More
Air date: Oct 17, 2007
The three-part "Imaginationland" story arc gets under way in this episode of South Park that finds the imagination of the entire world suddenly opening up right before Stan and Kyle. Eager to explore a new world of creativity and wonder, the two friends dive straight into a world where anything can happen. Meanwhile, back in South Park, Cartman believes he has spotted a leprechaun and sets out to solve the mystery of the diminutive man in green.More
Show More Episodes
Tv Season Info
The eleventh series of Trey Parker and Matt Stone's envelope-pushing satire "South Park" is highlighted by the three-part episode titled "Imaginationland," which follows Eric, Kyle, Stan, and Kenny as they battle to save the world in an imaginary land while Eric attempts to collect on a bet from Kyle after he proves that leprechauns are real. Other notable installments from this season include "Cartman Sucks," where Butters is forced to go to a pray-away-the-gay program; "With Apologies to Jesse Jackson," where Stan's dad utters a racial slur on national television; and "Guitar Queer-O", which skewers the popularity of the video game Guitar Hero. … More
Genre:
Animation
Network:
Comedy Central
Premiere Date:
Mar 7, 2007
Executive Producers:

Matt Stone

,

Trey Parker

,

Anne Garefino

Producers:

Matt Stone

,

Trey Parker

,

Anne Garefino

,

Vernon Chatman

,

Kyle McCulloch

,

Bruce Howell

,

Pam Brady

,

Eric Stough

,

Erica Rivinoja

,

Adrien Beard
Cast

News & Interviews for South Park: Season 11
Friend Ratings for South Park: Season 11
No Friends? Inconceivable! Log in to see what your friends have to say.
Login
Audience Reviews for South Park: Season 11
½
The List was one of the best South Park episodes, Cartman sucks was also awkwardly funny. The Imaginationland 3 parter was fun to watch too. Overall, it was a good season that fans would enjoy.
Matthew Rodrigues
Super Reviewer