What Are Little Girls Made Of?
EPISODE: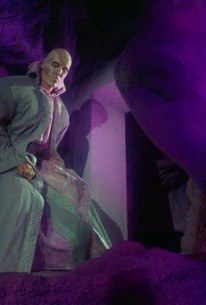 Episode Info
The Enterprise must thwart a mad scientist who plans to exterminate the human race and replace them with androids in this episode from the first season of the landmark science fiction series. Captain Kirk discovers the plans of the brilliant Dr. Korby while accompanying the Enterprise's Nurse Chapel, who is also Korby's fiancee, on a visit to his remote laboratory. Kirk and Chapel discover that the scientist has been much changed by his recent discovery of alien technology which has allowed the creation of ideal, human-like androids -- including a stunningly attractive female android with whom he seems particularly close. The death of an Enterprise crew member forces Kirk and Chapel to realize that Korby's research has crossed the line into irrational obsession and that they must stop him before they become the next victims.
What Are Little Girls Made Of? Photos
Discussion Forum
Discuss Star Trek on our TV talk forum!