Dagger of the Mind
EPISODE: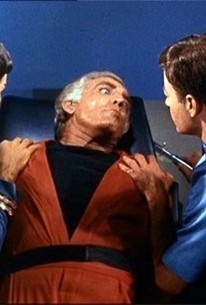 Episode Info
While on a routine stop at Tantalus, a rehabilitation facility -- the twenty-third century equivalent of a hospital for the criminally insane -- the starship Enterprise is involved in an unsuccessful escape attempt. Captain Kirk (William Shatner) knows of the sterling reputation of Tantalus under its enlightened director, Dr. Tristan Adams (James Gregory), but he is compelled to investigate, due in part to the concerns of chief medical officer McCoy (DeForest Kelley) over the fragile mental condition of the would-be escapee, Simon Van Gelder (Morgan Woodward) -- and to the fact that Van Gelder is not an inmate at Tantalus, but was assigned there as Adams' assistant. While McCoy tries to help Van Gelder, with some assistance from Spock (Leonard Nimoy) and his Vulcan mind-meld (the first time this is seen in the series), Kirk and a psychiatric expert, Dr. Noelle (Marianna Hill), beam down to the colony. They discover that Adams has been experimenting with a very powerful and dangerous device, the neural neutralizer, using it on staff members as well as inmates to control their thoughts and psyches -- and won't tolerate any interference or inquiries from Kirk or anyone else.
Dagger of the Mind Photos
Discussion Forum
Discuss Star Trek on our TV talk forum!