Is There in Truth No Beauty?
EPISODE: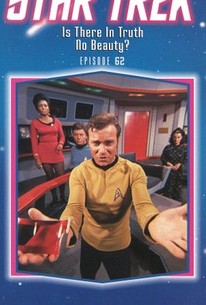 Episode Info
The Enterprise is assigned to transport a Medusan Ambassador, a creature so hideous to human (and Vulcan) eyes that anyone who gazes upon him shall go insane, in this episode from the third season of the 1960s science fiction series. The Ambassador is accompanied by Miranda Jones, a former acquaintance of Mr. Spock and a Vulcan-trained telepath. Also along for the ride is Larry Marvick, one of the creators of the Enterprise, who also happens to be in love with Jones. This love is unrequited, however, thanks to her intense dedication to her career and the Medusans. An already tense situation aboard the Enterprise actively worsens when Jones' telepathic abilities sense that someone is plotting a murder, and she unexpectedly points the finger at Spock. Spock must prove his innocence and discover the real killer before it is too late.
Is There in Truth No Beauty? Photos
Discussion Forum
Discuss Star Trek on our TV talk forum!