Plato's Stepchildren
EPISODE: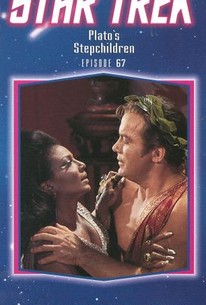 Episode Info
Captain Kirk and several other Enterprise crew members are captured by a race of aliens with immense mental powers in this episode of the original Star Trek television series. The trouble begins soon after the Enterprise's arrival on the planet of Platonious, so that Dr. McCoy can provide medical attention to the Platonian leader. After McCoy's healing mission is accomplished, the Platonians demonstrate their ingratitude by capturing the doctor, Captain Kirk, and several other Enterprise crew members. Using their advanced powers of telekinesis, the aliens transform the Enterprise crew members into marionettes, performing humiliating acts against their will for the Platonians' amusement. Kirk and his crew plot an escape from the aliens' control, finding an ally in Alexander, a sympathetic Platonian born without the power of telekinesis.
Plato's Stepchildren Photos
Discussion Forum
Discuss Star Trek on our TV talk forum!