Stargate Universe: Season 2
(2010 - 2011)
SEASON: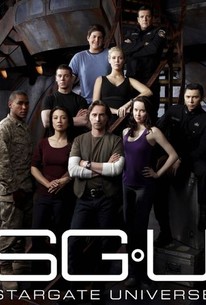 Rate And Review
Stargate Universe: Season 2 Photos
Tv Season Info
In the second season, the crew deals with the aftermath of a deadly attempt to take over Destiny. Resources become scarcer than ever with additional personnel on board. Chloe (Elyse Levesque) begins behaving strangely. Eli (David Blue) struggles with his mother's illness. The conflict between Colonel Young (Louis Ferreira) and Dr. Rush (Robert Carlyle) escalates. The ship and crew are plagued by drones programmed to destroy all technology. Visits home continue with the use of the communication stones. Soon after Wray and Greer activate the communication stones, an attack is made on Homeworld Command. The crew of Destiny gate to a planet and find a small group of humans who claim to be their descendents. Eli devises a way to keep Destiny and her crew safe from the drones. David Hewlett reprises his role of Doctor Rodney McKay for one episode.
Audience Reviews for Stargate Universe: Season 2
It's fine but it's clear the show was ending. I'd pass

Season 2 i just finished & man that was a really bad ending, nearly as bad as atlantis. It sticks to the whole "Smart man bad" method of thinking but it tries some new things every now & then that make it a bit interesting before they resume on "Smart man bad." Just when things are getting good, it ends. I am almost sorry wasting a week or two watching this series.

I don't understand why they didn't have a third season?

Not the Stargate we wanted. A sad way for the franchise to end.

Why, oh why, did they cancel this?! It was just getting started!

The adult stargate I wanted.

The second season was so much better than the first.

Season 2 of "Stargate Universe" was extremely well done and was a lot more fast paced then the first season. The First season did its job well by introducing everyone and also the ship and explaining how Destiny is barely working. Now the 2nd season is here with pretty much all the characters stories told and the ship functioning a lot better and more time to gate travel, meet new species, threats and beautiful planets. They are now at a stage where they are expanding the story in a very exciting way. We are yet again seeing some great appearances from the previous shows such as Richard Dean Anderson, Michael Shanks and David Hewlett. The Visuals are still great and really stunning and the action sequences are very well done. It was really sad to hear that "Stargate Universe got cancelled as it was just starting to really explore the stories and everyone was settled into there roles well. It was a big waste and a big mistake to cancel.

Stargate Universe takes everything you loved about SG1 and Atlantis, then throws away the fun, lore, love, and action. It's Grey's Anatomy in space, and unless your a 40-55 year old woman, look elsewhere for scifi.

The grandeur and emotional themes of this cult classic series were grossly under-realized in only two seasons. Another case of quality television cancelled in favor of easy money.