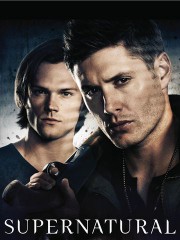 Series Info
Twenty-six years ago, Sam and Dean Winchester lost their mother to a mysterious and demonic supernatural force. Subsequently, their father raised them to be soldiers. He taught them about the paranormal evil that lives in the dark corners and on the back roads of America ... and he taught them how to kill it. This haunting series follows the Winchester brothers as they crisscross the lonely and mysterious back roads of the country in their '67 Chevy Impala, hunting down every evil supernatural force they encounter along the way.
more
News and Interviews
Series Details
TV Network:
CW
Premiere Date:

Sep 13, 2005

Genre:
Drama
Executive Producers:

Kim Manners

,

Philip J. Sgriccia

,

McG

,

Phil Sgriccia

,

Eric Kripke

,

Robert Singer

,

Sera Gamble

,

Jeremy Carver

,

Peter Johnson

,

David Nutter
Quick Links
Full Cast
Related News & Interviews
Trailers & Clips
Pictures
Forum
Photos
Cast
Discussion Forum
Discuss Supernatural on our TV talk forum!