Supernatural: Season 1
(2005-2006)
SEASON: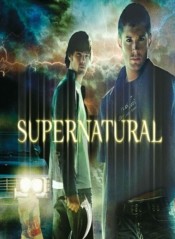 TOMATOMETER
AUDIENCE SCORE
Critic Consensus: Despite some too-hip dialogue and familiar thematic elements, Supernatural's vigilante brothers manage to stir up some legitimate scares.
Episodes
Air date: Sep 13, 2005
Two brothers, Sam and Dean Winchester, witness their mother's paranormal death as children and grow up trained to fight by a distraught father who wants nothing more than to hunt down the thing that killed his wife. Sam escapes to college to start a new, normal life, but gets pulled back in after Dean shows up on his doorstep to tell him their father is missing. Following clues from their father's eerie phone message, the boys travel to a small town and encounter a violent and vengeful spirit called the "Woman in White."More
Air date: Sep 20, 2005
Sam and Dean follow the coordinates left in their father's journal and land in the middle of the Colorado woods where they investigate the disappearance of several campers. The two brothers soon learn that they are dealing with a Wendigo, a creature made famous in Native American legends. A Wendigo is a former human whose cannibalism has transformed him into a creature with superhuman strength and speed.More
Air date: Sep 27, 2005
In a small town in Wisconsin, Sam and Dean investigate a series of mysterious drownings officially explained as suicides. They discover that the spirit of an angry little boy with the power to travel through water is taking revenge on certain town inhabitants for a dark secret buried long ago. Dean forms a bond with another young boy who seems to have the power of premonition.More
Air date: Oct 4, 2005
On TransNational flight 2485, a man possessed by the spirit of the Phantom Traveler causes the plane to crash, leaving only five survivors. Sam and Dean must exorcise the angry spirit before it attacks the survivors. The brothers realize the only way to vanquish the Phantom Traveler is to battle it on another flight.More
Air date: Oct 11, 2005
In suburban Nebraska, several partying high school teens jokingly dare their friend Charlie (MARNETTE PATTERSON) to look into a mirror and repeat "Bloody Mary, Bloody Mary, Bloody Mary," not knowing that this will unleash a series of mysterious murders. Sam and Dean realize that Bloody Mary has the power to travel through all reflective surfaces when she is hunting a victim. Worried that teens are accidentally summoning Bloody Mary, Sam and Dean race to destroy the violent spirit before she can kill again.More
Air date: Oct 18, 2005
Sam and Dean help Sam's old college buddy after he is accused of a murder he swears he didn't commit. The brothers discover a shape-shifter is adopting the likenesses of others and murdering people. The brothers' race to stop the killing spree takes a terrifying turn when the shape-shifter morphs into the likeness of Dean.More
Air date: Oct 30, 2005
In a small college town in Iowa, Sam and Dean encounter the infamous "Hook Man," a vengeful spirit who kills his victims with a shiny hook that serves as his hand. Sam and Dean learn that all the victims are connected to the daughter of a local minister. They race to find and destroy the Hook Man's bones before he comes after them.More
Air date: Nov 8, 2005
After a construction worker is killed by insects burrowing into his brain, Sam and Dean investigate a town's history and find that the new housing development is being built on sacred American Indian land. The Native Americans put a curse on the land after their reservation was ravaged and destroyed. Sam and Dean must find a way to survive and kill the deadly swarm of bees, locusts, spiders and beetles.More
Air date: Nov 15, 2005
Sam is haunted by a vision of a woman trapped in the brothers' childhood house and convinces a reluctant Dean that they need to go home. Upon arrival, they meet the woman in Sam's premonition, and she reveals that the house is haunted. The brothers discover that their father visited a psychic, Missouri Mosley (LORETTA DEVINE - "Waiting to Exhale," "Crash"), after their mother's death, and they seek insight from the same woman. Together, the three discover that a malevolent poltergeist has inhabited the house and set out to exorcise it but are blindsided when another unseen spirit steps in.More
Air date: Nov 22, 2005
Sam and Dean investigate an abandoned sanitarium and discover that the patients had held a revolt against the cruel and unusual punishments inflicted by the head doctor. While the brothers search the premises for four lost college students, the tortured spirits cause Dean and Sam to go insane, turning the brothers against each other.More
Show More Episodes
Supernatural: Season 1 Trailers & Photos
Tv Season Info
In the tradition of interweaving character drama and the supernatural in such hits as "Smallville," a completely new kind of thrill ride takes viewers on a journey into the dark world of the unexplained in "Supernatural."
Genre:
Drama
Network:
CW
Premiere Date:
Sep 13, 2005
Creator:

Eric Kripke

Executive Producers:

McG

,

Eric Kripke

,

David Nutter

,

Peter Johnson

Producers:

McG

,

Eric Kripke

,

Robert Singer

,

Ben Edlund

,

Sera Gamble

,

John Shiban

,

Cyrus I. Yavneh

,

David Nutter

,

Peter Johnson

,

Kim Manners
News & Interviews for Supernatural: Season 1
Friend Ratings for Supernatural: Season 1
No Friends? Inconceivable! Log in to see what your friends have to say.
Login
Audience Reviews for Supernatural: Season 1
There are no featured audience reviews yet. Click the link below to see what others say about Supernatural: Season 1!