Supernatural: Season 5
(2009-2010)
SEASON: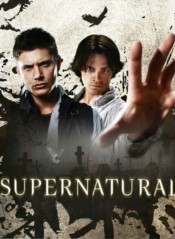 Episodes
Air date: Sep 10, 2009
Twenty-six years ago, Sam Winchester (series star JARED PADALECKI) and Dean Winchester (series star JENSEN ACKLES) lost their mother to a mysterious and demonic supernatural force. Subsequently, their father raised them to be soldiers. He taught them about the paranormal evil that lives in the dark corners and on the back roads of America ... and he taught them how to kill it. Now, the Winchester brothers crisscross the lonely and mysterious back roads of the country in their '67 Chevy Impala hunting down every evil supernatural force they encounter along the way.More
Air date: Sep 17, 2009
Castiel tells Sam and Dean that he is going to search for God who will be able to defeat Lucifer. Bobby's old hunter friend, Rufus (guest star STEVEN WILLIAMS), is panicked about demons attacking his town, and begs Bobby for help. Sam and Dean arrive at the town and realize there is a spell over the townspeople, making them hallucinate that they are demons and causing them to kill one another.More
Air date: Sep 24, 2009
Not sure he trusts himself anymore, Sam decides to give up hunting, but a latenight visit from Jessica (guest star ADRIANNE PALICKI) won't let him off the hook that easily. Meanwhile, Dean, intent on stopping the Apocalypse, continues hunting on his own and teams up with Castiel to find the Archangel Raphael as Castiel believes Raphael knows God's location.More
Air date: Oct 1, 2009
Sam tells Dean he wants to rejoin with him in the battle of the Apocalypse, but Dean tells Sam that they are better off apart. Later, Dean awakens five years in the future in an abandoned city and is attacked by humans who have been infected with a demonic virus that turns humans into Zombies. Zachariah (guest star KURT FULLER) appears to Dean and explains that this is the world that exists as a result of Dean saying no to helping the angels fight Lucifer. Dean meets up with the Future Dean, who tells him that the virus is the Devil's endgame for destroying mankind.More
Air date: Oct 8, 2009
Sam and Dean decide to start hunting together again and their first case leads them to a small town whose inhabitants are being killed by famous dead icons like Abraham Lincoln and James Dean's car. However, after two teenage girls come forward and claim their friend was kidnapped by PARIS HILTON (in a cameo role as herself), the brothers aren't sure what they are hunting anymore.More
Air date: Oct 15, 2009
Fairy tales do come true! Sam and Dean investigate a series of odd murders that strangely resemble fairytales and urban legends. The brothers track down an 11-year-old boy named Jesse (guest star GATTLIN GRIFFITH) and realize that whatever Jesse believes is coming true. Castiel tells Sam and Dean that Jesse is a serious threat and needs to be eliminated.More
Air date: Oct 29, 2009
Sam and Dean discover a witch (guest star HAL OZSAN) is running a high-stakes poker game where the currency is life years not money. Bobby sees the game as a chance to get out of the wheelchair and bets 25 years, but loses. As Bobby begins to age rapidly, Dean steps in to save him but also ends up turning into an old man, leaving Sam holding the bag for their survival.More
Air date: Nov 5, 2009
Sam and Dean get stuck in TV Hell, when The Trickster (guest star RICHARD SPEIGHT JR.) imprisons them in an alternate universe where they are characters in different television series including a sexy medical show, a Japanese game show, a forensics show and a sitcom. The brothers realize the only way to get out of this world is to play along and become the characters in the shows. However, Castiel appears and warns them this universe is dangerous and they must get out before they become forever trapped.More
Air date: Nov 12, 2009
Super fan Becky (guest star EMILY PERKINS) uses Chuck's (guest star CHUCK BENEDICT) phone to trick Sam and Dean into attending a Supernatural fan convention complete with fans dressed up as Sam and Dean. One of the activities is a live-action role-playing game, but things quickly turn scary after a real ghost appears on the scene.More
Air date: Nov 19, 2009
Sam, Dean and Castiel track down the Colt and head off to find Lucifer to send him back to Hell. It's a hunters' reunion when the crew joins forces with Bobby, Ellen (guest star SAMANTHA FERRIS) and Jo (guest star ALONA TAL) for what could be their last night on Earth.More
Show More Episodes
Supernatural: Season 5 Trailers & Photos
Tv Season Info
They've been fighting evil for four years now but Sam and Dean Winchester have never faced a battle like this! Lucifer now walks free and the Apocalypse is near. With the ultimate battle at hand, the brothers must somehow avert the End of Days!
Genre:
Drama
Network:
CW
Premiere Date:
Sep 10, 2009
Creator:

Eric Kripke

Executive Producers:

McG

,

Eric Kripke

,

David Nutter

,

Peter Johnson

Producers:

McG

,

Eric Kripke

,

Robert Singer

,

Ben Edlund

,

Sera Gamble

,

Cyrus I. Yavneh

,

Andrew Dabb

,

Todd Aronauer

,

David Nutter

,

Daniel Loflin

,

Peter Johnson
News & Interviews for Supernatural: Season 5
Friend Ratings for Supernatural: Season 5
No Friends? Inconceivable! Log in to see what your friends have to say.
Login
Audience Reviews for Supernatural: Season 5
There are no featured audience reviews yet. Click the link below to see what others say about Supernatural: Season 5!
Discussion Forum
Discuss Supernatural on our TV talk forum!