Supernatural: Season 6
(2010-2011)
SEASON: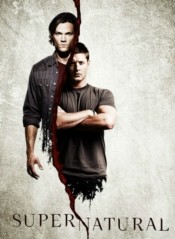 Episodes
Air date: Sep 24, 2010
In the sixth season premiere, it's a year after Sam and Dean faced the Apocalypse. Dean has given up hunting and is living with Lisa and her son Ben. Mysteriously freed from his cage in hell, Sam finds Dean and tells him he needs to rejoin the fight and introduces Dean to a world and a family he never even knew existed: the Campbells, his mother's family, lead by none other than their Grandfather Samuel.More
Air date: Oct 1, 2010
Sam investigates a case about missing babies whose parents are being murdered. At one of the crime scenes, he discovers a baby that was left behind and calls Dean for help. Reluctant to leave Lisa and Ben, Dean finally agrees to meet Sam and surprises his brother with how parental he has become. The brothers take the baby to Samuel, who decides to raise it as a hunter, which infuriates Dean. However, before they can decide the baby's future, a shapeshifter breaks in and attempts to kidnap the baby.More
Air date: Oct 8, 2010
Sam and Dean call Castiel for help when they investigate a case about several dead police officers who seem to have been killed by the plagues of Egypt. Castiel confirms the staff of Moses was used to kill the cops and tells Sam and Dean that Heaven is in a state of chaos and God's weapons have been stolen. The three head off to find the thief and come face to face with an old enemy.More
Air date: Oct 15, 2010
After Bobby discovers Crowley has no intentions of returning Bobby's soul, the hunter takes matters into his own hands. He calls on Sam and Dean for help after he unearths one of Crowley's deepest secrets. Meanwhile, Sam and Dean learn what Bobby does all day when they are not around. Series star Jensen Ackles makes his directorial debut.More
Air date: Oct 22, 2010
After a group of young girls go missing, Sam and Dean realize that a group of vampires have taken up residence in the small town. After a fight with two of the blood-suckers, Dean is bitten and turns into a vampire. Samuel tells Dean he can change him back but he'd have to get the blood of the vampire who turned him. Dean infiltrates the nest and runs into the Alpha.More
Air date: Oct 29, 2010
The truth hurts! Sam and Dean investigate a series of suicides and discover the victims were being told brutal truths that drove them crazy. They find out someone is invoking Veritas, the Goddess of Truth, forcing people to be cruelly honest against their will and Dean is the next victim. Dean is forced to tell Sam the truth about how he feels about his return from Hell.More
Air date: Nov 5, 2010
Does Samuel have a secret? Dean becomes suspicious of Samuel's motives but Sam isn't sold on the idea that their grandfather is doing anything wrong. The brothers go along on a hunt with Samuel and the other Campbells, but things go terribly awry.More
Air date: Nov 12, 2010
Dean and Sam investigate what seems to be a werewolf killing but turns out to be a skinwalker posing as a family dog who is taking revenge on his owner's enemies. After capturing the dog, he turns human and tells Sam and Dean that an Alpha skinwalker has created many sleeper cells that will rise on his command and kill their families. The only way to stop the mass murders is to find and kill the Alpha.More
Air date: Nov 19, 2010
While Sam and Dean are investigating a UFO sighting, Dean is abducted from a crop circle. However, when he awakens, he discovers he isn't dealing with aliens, but fairies! Unfortunately, only Dean can see the fairy that keeps attacking him which makes tracing and stopping them difficult. The brothers become even more perplexed when Sam's investigation leads them to a world full of elves, gnomes and a leprechaun.More
Air date: Dec 3, 2010
The demon Meg kidnaps Sam and Dean and tries to force them to tell her where Crowley is hiding. Sam makes her a deal they will help her find Crowley if she promises to torture him for information about how to get Sam's soul back. Castiel joins the fight but finds it difficult to work with Meg.More
Show More Episodes
Supernatural: Season 6 Trailers & Photos
Tv Season Info
A year after the Apocalypse, Dean's past inevitably catches up to him when Sam, mysteriously freed from his cage in hell, needs his brother to rejoin the fight.
Genre:
Drama
Network:
CW
Premiere Date:
Sep 24, 2010
Creator:

Eric Kripke

Executive Producers:

McG

,

Eric Kripke

,

David Nutter

,

Peter Johnson

Producers:

Eric Kripke

,

McG

,

Robert Singer

,

Ben Edlund

,

Phil Sgriccia

,

Sera Gamble

,

Cyrus I. Yavneh

,

Andrew Dabb

,

Todd Aronauer

,

Daniel Loflin

,

David Nutter

,

Peter Johnson
News & Interviews for Supernatural: Season 6
Friend Ratings for Supernatural: Season 6
No Friends? Inconceivable! Log in to see what your friends have to say.
Login
Audience Reviews for Supernatural: Season 6
There are no featured audience reviews yet. Click the link below to see what others say about Supernatural: Season 6!