The Bletchley Circle: Season 1
(2012)
SEASON: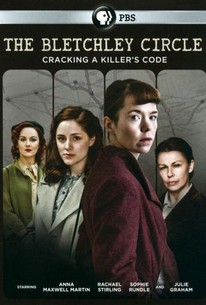 Rate And Review
Episodes
Air date: Apr 21, 2013
Susan calls on her old pals Millie, Lucy and Jean for help after she picks up on a pattern shared by several murders in the first episode of the mystery series about four female ex-code breakers in post-WWII Britain.
View Details
Air date: Apr 28, 2013
Susan, Millie, Lucy and Jean undertake the investigation themselves after Scotland Yard dismisses their theories about the case. To that end, they set a trap for their suspect, but things don't go as planned. Later, Susan decides to meet with a psychiatrist whom she believes may possess helpful information.
View Details
Air date: May 5, 2013
In the Season 1 finale, the killer becomes obsessed with Susan and plants a series of false clues in order to lead her into a trap.
View Details
The Bletchley Circle: Season 1 Photos
Tv Season Info
In post-war Britain of 1952, four former workers at the top secret Bletchley Park with an extraordinary flair for code breaking, have slipped back into the anonymity of civilian life. One of the four female friends summons the others to use their unusual skills to track down a serial sex killer.
Audience Reviews for The Bletchley Circle: Season 1
Stumbled across this on Netflix as you do, thought I'd give it the 5 minute rule . I wasn't sure TBH it looked okay so I gave it some overtime and ten minutes in I'd put the remote down. Quite different from what you may expect and gentle but we'll written, the soft core crime thriller that most people could watch. With a little bit of 1950s girl power thrown in the mix meets a grown up version of scooby doo without the dog. Will they solve the crimes , of course we know that they will this is feel good telly but it's better than freeking Brexit .

Absolutely juvenile TV. Like the Hardy boys or the secret seven but with middle aged women. Avoids having to require a narrative or show actual detective work by resorting to pseudo-scientific hocum and throws terms like vector paths about like they're on the bridge of the starship enterprise. Asinine viewing.

I was struck by the way women were portrayed in this television show. It was educational for me, to see how far women have come. What I take for granted for myself, for my daughter, was won for us by brave women everywhere, as depicted in this creatively written, and flawlessly portrayed period drama. The Bletchley Circle is intelligent and emotional--and I loved every minute of it. As one of the more thought-provoking period dramas on television, it's a shame the series was cancelled after only two series. I can't help but think that if there were more episodes made, the audience would only grow.

I love this series, it's very riveting. well done ITV!

An amazingly simple premise - female code-breakers from the war still wanting to make a difference - played out in a superb manner. Very well acted, perfectly scripted and runs at a good pace. This is top television.

Historically spot on! Twists and turns, keeps you on the edge of your seat.

Add this to your British must see list. I watched it by accident and really liked it. Very well done.