The Borgias: Season 1
(2011)
SEASON: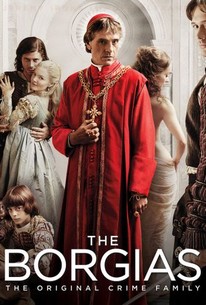 Episodes
Air date: Apr 3, 2011
Cardinal Rodrigo Borgia schemes and bribes his way into being elected head of the Catholic Church as Pope Alexander VI, and has his son Cesare named a cardinal. Another son, Juan, is put in charge of the papal armies, and daughter Lucrezia is maneuvered into a politically expedient marriage.More
Air date: Apr 3, 2011
Newly elected Pope Alexander VI tries to solidify his power over the College of Cardinals by creating new posts and filling them with his hand-picked clerics. Meanwhile, Cardinal Della Rovere finds a servant who observed the new pope's sexual dalliances and hopes to use her against him. But Cesare's trusted new henchman, Micheletto, infiltrates Della Rovere's camp and takes care of the witness.More
Air date: Apr 10, 2011
Jews displaced by the Spanish Inquisition receive a welcome in Rome---for a price. Meanwhile, the pope contemplates a marriage of political expedience for Lucrezia; Cesare sends Micheletto to Naples to assassinate Cardinal Della Rovere; and young Juan is given the task of killing a Turkish prince, which would help the Borgias replenish their seriously depleted coffers.More
Air date: Apr 17, 2011
Lucrezia is deeply disappointed to discover her real mother has been banned from her wedding to Giovanni Sforza, whom she's never met. Meanwhile, Della Rovere goes to Florence to broker a deal with the powerful Medici family and meets with their adviser Machiavelli. At the wedding reception, the bride's brothers Juan and Cesare create serious breaches of etiquette, with the latter causing a scene by dancing and flirting with an influential baron's wife.More
Air date: Apr 24, 2011
Lucrezia turns her attentions to a handsome young stable boy as a temporary escape from her loveless marriage. Meanwhile, Cesare has fallen in love with an influential baron's wife and takes drastic steps to ensure she will become his. On the political front, Cesare persuades Machiavelli to reconsider his pact with Della Rovere, which would allow French troops passage through Florence.More
Air date: May 1, 2011
When Pope Alexander learns that Della Rovere is seeking to form an alliance with France's King Charles, he decides to forge a union between Rome and Naples by marrying off his youngest son to the older Neapolitan princess. Meanwhile, with her husband laid up, Lucrezia intensifies her affair with the stable boy; and Ursula discovers who was responsible for her husband's death.More
Air date: May 8, 2011
The armies of the French invade Italy and decimate the town of Lucca as Della Rovere comes to comprehend what damage he has wrought with his warmongering as many powerful Italian leaders flee the onslaught. Meanwhile, the pope dispatches Giulia to discover what she can glean from Lucrezia, whom she finds with child; Cesare follows Ursula to a convent, where she spurns his advances; and in Milan, Leonardo da Vinci schools King Charles of France and Della Rovere on his concepts of battle.More
Air date: May 15, 2011
Paolo helps Lucrezia and Giulia escape Giovanni's estate, but the women wind up as captives of the advancing French army. At the Vatican, Pope Alexander worries whether his few remaining troops will be able to stop the invaders' march on Rome. After charming the French king, Lucrezia is able to intercede and talk Juan, leader of the overmatched papal army, into retreating. Later, Della Rovere enjoins King Charles to continue his trek to Rome and the unprotected pope.More
Air date: May 22, 2011
In the season finale, Pope Alexander, abandoned by his cardinals, faces Charles, whom he crowns "King of France and Naples" and hopes that gesture and his humility will be enough to save his papacy. Meanwhile, Della Rovere is concerned after Charles abandons him; and Lucrezia gives birth to a son in a convent and the Borgia family secure an annulment of her marriage.More
The Borgias: Season 1 Photos
Tv Season Info
Toss in some Corleones with your Sopranos and you've got the makings of this sumptuous Renaissance-era soap opera-costume drama. Don Borgia, er, Rodrigo Borgia, played with devilish ham by Jeremy Irons, makes like Machiavelli (who, incidentally, shows up a few episodes down the Appian Way) and maneuvers and schemes his way to the papacy to become Pope Alexander VI. And he keeps things in the family, by naming son Cesare (François Arnaud) a cardinal, putting another, Juan (David Oakes), in charge of the papal armies and pimping out daughter Lucrezia (Holliday Grainger) for a political alliance.
Network:
Showtime
Premiere Date:
Apr 3, 2011
Creator:
Executive Producers:
Audience Reviews for The Borgias: Season 1
There are no featured audience reviews yet. Click the link below to see what others say about The Borgias: Season 1!
Discussion Forum
Discuss The Borgias on our TV talk forum!