The Carrie Diaries: Season 1
(2013)
SEASON: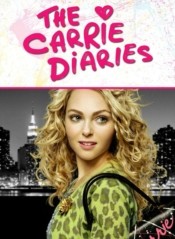 TOMATOMETER
AUDIENCE SCORE
Critic Consensus: Anna Sophia Robb is charming as the lead in The Carrie Diaries, even if this Sex and the City spinoff sometimes suffers from overwrought narration and so-so writing.
Episodes
Air date: Jan 21, 2013
New couple Carrie and Sebastian cant seem to catch a break. Between being grounded and rival Donnas sneaky attempts to break them apart, Carrie worries Sebastian will lose interest in her. Desperate for some alone time with him, Carrie must lie to her father and bail on plans with her sister, Doritt. Maggies obsession with having sex drives a wedge between her and Walt. Meanwhile, Larissa wants to do a photo shoot with Carries purse for Interview magazine, forcing Carrie to scramble to make it work.More
Air date: Jan 28, 2013
After Tom forbids Carrie to see Sebastian again, Carrie snoops through Toms work files and uncovers some alarming information about Sebastians past. Carrie decides to confront Sebastian about what shes discovered and is shocked by his reaction. Maggie deals with her breakup with Walt in the only way she knows how and finds some solace from Dorrit. Meanwhile, Larissa takes Carrie, Mouse and Seth (recurring guest star KYLE HARRIS) to an outrageous performance art club in New York City, which leaves them all feeling self-conscious.More
Air date: Feb 4, 2013
When Carrie is invited to a Halloween party in the city by Larissa, she decides to invite Walt to go with her to keep her company. It doesnt take long before the night goes awry and Carrie is forced to babysit Larissa, who has clearly taken too many drugs. Walt finds himself in an uncomfortable position after a party guest gets a little too close for comfort. Elsewhere, Maggie convinces Mouse to go with her to Sebastians Halloween party at the diner to help keep tabs on him. After Doritts attempt to sneak out of the house is thwarted, she discovers hanging out with her father isnt so bad.More
Air date: Feb 11, 2013
Carrie runs into an old friend at her internship and gets invited to his mothers dinner soiree in Manhattan, but her feelings for Sebastian get in her way until she see him with another girl. Mouse is excited about getting back together with Seth (recurring guest star KYLE HARRIS), but her worries about being bad at sex lead her to ask Walt for help. In order to hang on to a favorite spot at the diner, Maggie takes on Donna LaDonna and her friends. Meanwhile, Tom loses his wedding ring, which makes him realize that Harlan (recurring guest star SCOTT COHEN Necessary Roughness) might be right about starting to date again.More
Air date: Feb 18, 2013
Carrie gets in way over her head when she tries to cook the perfect Thanksgiving dinner for her family, her new boyfriend, George (recurring guest star RICHARD KOHNKE), and his dad, Harlan (recurring guest star SCOTT COHEN), so she enlists Mouses help. Tom is oblivious to the chaos going on in the kitchen, while Dorrit finds a new way to torture Carrie. Meanwhile, Maggie is excited to have Thanksgiving with Walts family, but when the topic of college comes up she realizes that she hasnt put much thought into her future. Elsewhere, Sebastian learns that his mother decided to fly out of town with her boyfriend, leaving him to fend for himself on Thanksgiving.More
Air date: Feb 25, 2013
Impressed with Carries creative prowess, Larissa offers her an internship at Interview, but Carrie is torn about whether she should take it. Carrie invites George (recurring guest star RICHARD KOHNKE) to the school dance, but when she suggests they leave the dance early, George gets the wrong idea about her intentions. Dorrit, who used to go to the Nutcracker ballet with her mother every year, reluctantly agrees to go with Tom, but he has a hard time filling his wifes shoes. Mouse gets a B+ on an exam and blames it on her relationship with Seth (recurring guest star KYLE HARRIS). Meanwhile, Donna LaDonna catches Maggie cheating on Walt and blackmails her into keeping Carrie away from Sebastian.More
Air date: Mar 4, 2013
Carrie is thrilled when the junior-senior lock-in provides the perfect cover for a night out in Manhattan with Larissa and her Interview co-workers until a surprising encounter turns her night upside-down. Maggie and Mouse confront Sebastian about his feelings for Carrie and tell him he better make a grand gesture if he stands any chance of winning her back. Harlan (recurring guest star SCOTT COHEN) finally convinces Tom to go on a double date, with surprising results. Meanwhile, Maggie tries to find the courage to tell Walt about Simon (recurring guest star JOSH SALATIN) before Donna LaDonna does.More
Air date: Mar 11, 2013
When Dorrit goes missing under Carries watch, Carrie lashes out at Sebastian, the one person who can help her find her sister. Mouse butts heads with West (recurring guest star RJ BROWN), a popular jock who, much to her chagrin, stole her spot as number one in the class. Walt surprises himself when he confides in someone completely unexpected. Meanwhile, Tom finds himself in uncharted territory when it comes to women and turns to Larissa for advice.More
Air date: Mar 18, 2013
On her 17th birthday, Carrie is torn between an opportunity to mingle with New Yorks literati and spending time with her friends and Sebastian. Mouse goes to extensive lengths to impress a Harvard alum who has her eyes set on West (recurring guest star RJ BROWN), with hilarious results. Walt starts taking responsibility for his previous actions. Elsewhere, Dorrits search for the perfect gift for Carrie lands her in a sticky situation with romantic possibilities.More
Show More Episodes
The Carrie Diaries: Season 1 Trailers & Photos
Tv Season Info
Based on Candace Bushnell's young-adult book series of the same name, this prequel to "Sex and the City" focuses on teenage Carrie Bradshaw (AnnaSophia Robb) growing up in suburban Connecticut in the 1980s. Season 1 finds Carrie and her family still reeling from the recent death of Carrie's mom. One bright spot for Carrie is the start of her new internship at a law firm in Manhattan. While in the city, Carrie meets fashion editor and party gal Larissa (Freema Agyeman), who mistakes Carrie for someone older and becomes her mentor. Carrie then tries juggling her wild new experiences in New York City with her ordinary high-school life, where she hangs out with pals Maggie (Katie Findlay), Mouse (Ellen Wong) and Walt (Brendan Dooling). She also becomes attracted to Sebastian (Austin Butler), the troubled new boy who got kicked out of his old school. As the season progresses, the balancing act gets tougher, and Carrie begins finding her voice through her journal writing. … More
Network:
CW
Premiere Date:
Jan 14, 2013
Creator:

Amy B Harris

Executive Producers:

Amy B Harris

,

Candace Bushnell

,

Josh Schwartz

,

Len Goldstein

,

Miguel Arteta

,

Stephanie Savage

Producers:

Bruno Heller

,

Chris Long

,

Tom Szentgyorgyi

,

Daniel Cerone

,

Eoghan Mahony

,

Amy B Harris

,

Candace Bushnell

,

Josh Schwartz

,

Len Goldstein

,

Miguel Arteta

,

Stephanie Savage
News & Interviews for The Carrie Diaries: Season 1
Friend Ratings for The Carrie Diaries: Season 1
No Friends? Inconceivable! Log in to see what your friends have to say.
Login
Audience Reviews for The Carrie Diaries: Season 1
There are no featured audience reviews yet. Click the link below to see what others say about The Carrie Diaries: Season 1!