The Good Wife: Season 4
(2012-2013)
SEASON: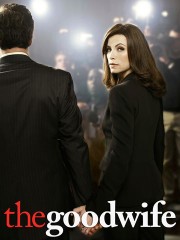 TOMATOMETER
AUDIENCE SCORE
Critic Consensus: This season of The Good Wife continues its winning streak as one of television's top shows, with unique legal cases and intelligent political drama.
Episodes
Air date: Sep 30, 2012
Brand new series: The award-winning US legal drama starring Julianna Margulies returns to More4 for its fourth season. Zach is pulled over by a police officer who insists on searching his car for drugs, and Alicia must go on the offensive when she steps in to defend her son in court. When Lockhart & Gardner narrowly avoids being made bankrupt, Will and Diane must try to rescue the firm's finances, and trustee Clarke Hayden is appointed by the courts to guide the company through the crisis. Kalinda is forced to stand her ground when her estranged husband Nick (guest star Marc Warren), a persuasive but dangerous man, becomes the firm's newest client. As Peter's primary campaign for the Illinois governorship gathers pace, he faces questions from the press about Alicia's devotion to his cause. Kristin Chenoweth guest stars as political reporter Peggy Byrne.More
Air date: Oct 7, 2012
Back in court to tackle his first case after suspension, Will is determined to reject a low settlement offer when he represents the family of a young man who died during a protest march. Trustee Clark Hayden has begun making brutal staff and budget cuts. When Diane asks Alicia to speak to financier Maddie Hayward about re-structuring the lease on the company's office building, there are unexpected benefits for Peter's campaign. Kalinda struggles to focus on her work thanks to the reappearance of her estranged husband Nick.More
Air date: Oct 14, 2012
Alicia and Will represent an internet start-up company in a case against a search engine that is accused of manipulating its search results in favour of businesses that pay for advertising. Eli discovers that a journalist writing a high-profile article about the Florricks is going to reveal evidence of a new affair and struggles to contain the potential scandal for Peter's campaign. Sopranos star Dominic Chianese guest stars as Judge Marx, and Rita Wilson returns as Alicia's old adversary Viola Walsh.More
Air date: Oct 21, 2012
Alicia and Diane represent the parents of a student who died during a hazing ritual at a party for the college water polo team, arguing that the college authorities knew what was going on but didn't do enough to prevent it. However, they are forced to rethink their approach when the opposing lawyer abruptly changes tactics, asserting that the death was the result of a hate crime. Eli wins a victory in his efforts to protect Peter's image, the firm loses a floor of its office building to the financial restructuring, and Alicia wonders whether Jackie is not as fully recovered from her stroke as she seems. Maura Tierney and Nathan Lane guest star.More
Air date: Oct 28, 2012
An accountant employed by drug dealer Lemond Bishop, one of the firm's most lucrative and dangerous clients, is arrested by the FBI. Alicia and Diane must work with Lesli Rand (guest star Annabella Sciorra), from the law firm that handles Bishop's illicit activities, to find out whether the authorities are after his legal businesses or his drug money. Meanwhile, Nick creates more trouble for Kalinda, Peter prepares for a straw poll, and Eli tries to stop a blogger from publishing a story that he has been working hard to bury.More
Air date: Nov 4, 2012
Alicia must deal with complex matters of military law when army officer Captain Laura Hellinger accuses a civilian contractor of attempting to rape her while she was on a tour of duty in Afghanistan. When Peter's quest for the governorship suffers an unexpected setback, Eli wonders whether Alicia has revealed too much to a friend in confidence. Nick's company loses its bid for a government contract, but Cary may have found a solution to the problem. Brian Dennehy, Maura Tierney and Marc Warren also guest star.More
Air date: Nov 11, 2012
Cary and Alicia travel to Washington DC to represent edgy comedienne Therese Dodd, who is being sued for indecency by a television network after baring her breasts during a live broadcast in an attempt to raise awareness about breast cancer. Eli has to deal with the fallout when Maddie starts a rumour about Peter. Cary has an uneasy reunion with his father after an absence of several years. Diane and Will are shocked to discover that Burl Preston has spoken to Clarke about buying the firm.More
Air date: Nov 18, 2012
While defending a woman who is alleged to have hired someone to kill her husband, Will becomes convinced that Judge Harrison Creary is biased against his client. He and Alicia realise that they must risk the wrath of the judicial community by demanding a hearing to decide whether a different judge should take over the case. Meanwhile, Grace is affected by the death of a classmate, Nick is jealous of Cary's friendship with Kalinda, and Zach looks for a way to help Peter's campaign.More
Air date: Nov 25, 2012
Alicia and Diane agree to let a famous liberal lawyer help them with their latest case, but they soon realise he may not have their client's best interests at heart. Meanwhile, Alicia's mother arrives for Thanksgiving seeking moral and legal support from Alicia and her brother Owen.More
Air date: Dec 2, 2012
Will defends a man accused of murder, while Alicia attempts to influence the outcome of the case by aiding the prosecutor in a nearby county where another suspect is on trial for the same murder. Eli has an unsettling encounter with a Justice Department agent, and Alicia discovers something surprising on her home computer.More
Show More Episodes
The Good Wife: Season 4 Trailers & Photos
Tv Season Info
The fourth season of the legal drama begins with Lockhart/Gardner entering bankruptcy and having a humorless, court-appointed trustee (Nathan Lane) brought in to clean up the financial mess. But his merciless cost-cutting and severe staff reductions don't sit well with Diane (Christine Baranski) and Will (Josh Charles). Meanwhile, Kalinda (Archie Panjabi) greets her estranged husband, Nick (Marc Warren), with a gun when he shows up at her door and tries to force his way back into her life. As for Alicia (Julianna Margulies), she continues to be pulled between her feelings for Will and her growing attachment to Peter (Chris Noth), who is busy running for governor. She also receives a surprise visit from her mercurial mom (Stockard Channing) and gets an offer to become an equity partner at the firm?which comes at a steep price. In other L/G news, Eli (Alan Cumming) is investigated by the Justice Department for possible violations while working as a crisis manager for a previous client; and a new investigator (Jess Weixler) joins the firm, much to Kalinda's dismay. … More
Genre:
Drama
Network:
CBS
Premiere Date:
Sep 30, 2012
Creators:

Michelle King

,

Robert King

Executive Producers:

Tony Scott

,

Ridley Scott

,

Robert King

,

Michelle King

,

Dee Johnson

,

David Zucker

Producers:

Tony Scott

,

Ridley Scott

,

Robert King

,

Michelle King

,

Dee Johnson

,

David Zucker
News & Interviews for The Good Wife: Season 4
Friend Ratings for The Good Wife: Season 4
No Friends? Inconceivable! Log in to see what your friends have to say.
Login
Audience Reviews for The Good Wife: Season 4
There are no featured audience reviews yet. Click the link below to see what others say about The Good Wife: Season 4!
Discussion Forum
Discuss The Good Wife on our TV talk forum!