The Vampire Diaries: Season 1
(2009-2010)
SEASON: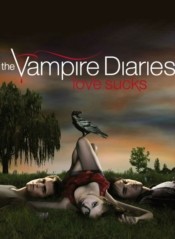 TOMATOMETER
AUDIENCE SCORE
Critic Consensus: It's not particularly innovative and there's a lot of angsty brooding going on, but there's a self-referential cheekiness in The Vampire Diaries that will appeal directly to its target audience.
Episodes
Air date: Sep 10, 2009
Based on the best-selling book series, it is four months after a tragic car accident killed the parents of 17-year-old Elena and her 15-year-old brother, Jeremy, who are still adjusting to their new reality and living with their Aunt Jenna. Elena finds some comfort with best friend Bonnie and frenemy Caroline, while trying to sort out her feelings for former boyfriend Matt, but Jeremy is hard-pressed to find the same comfort, hanging out with a bad crowd and trying to figure out why Matt's sister, Vicki, is suddenly rejecting him and to be with his rival, Tyler. As the school year begins, Elena and her friends are fascinated by a handsome and mysterious new student, Stefan Salvatore. Stefan and Elena are immediately drawn to one another, but Elena doesn't realize that Stefan is hiding a dark, deadly secret he is a vampire. As Elena and Stefan get to know each other one night at a bonfire party, chaos erupts after Vicki is attacked and left bleeding from a savage bite to the neck.More
Air date: Sep 17, 2009
As Mystic Falls prepares for a festival to celebrate the passing of a comet, Vicki is still in the hospital, recovering from the attack she can barely remember. Stefan goes to the hospital and tries to use his abilities to make sure Vicki doesn't remember what really happened, but his attempt is cut short when Vicki's brother, Matt, arrives. Jeremy continues to struggle at school and with his feelings for Vicki. At a parent/teacher conference, Mr. Tanner (recurring guest star BENJAMIN AYRES - "Smallville") makes Aunt Jenna feel that she is failing as a surrogate parent, especially when it comes to Jeremy. Elena decides to go to the Salvatore house to talk to Stefan, but finds his charming brother, Damon, instead. Damon reveals surprising information about Stefan's past, and when Stefan arrives home, Elena is confused and embarrassed to realize that he isn't happy to see her there. Meanwhile, Vicki's memory of the attack begins to come back to her.More
Air date: Sep 24, 2009
Elena tries to ignore Bonnie's warnings about the disturbing vibes she got from Stefan. Tyler tries to embarrass Stefan by throwing a football at him, but Stefan effortlessly catches and passes the ball back, impressing everyone with his skill. Mr. Tanner (recurring guest star BENJAMIN AYRES) reluctantly lets Stefan join the football team. Elena invites Stefan and Bonnie to dinner, hoping that the two will bond, but the evening is disrupted by the unexpected and unwelcome arrival of Damon and Caroline. Plus, the town is shocked by an act of violence.More
Air date: Oct 1, 2009
Elena asks Stefan to escort her to the town's annual Founder's Party. Vicki gets Tyler to ask her to the party, and then accuses him of trying to hide their relationship from his family. Zach (recurring guest star CHRIS WILLIAM MARTIN - "Heartland," "The L Word") reveals a useful family secret to Stefan. At the party, Damon tells Elena a story about the Salvatore family's past, leaving Elena with questions that Stefan refuses to answer. Finally, Stefan takes action to get Damon out of his life for good.More
Air date: Oct 8, 2009
Stefan is hopeful that his plan to get rid of Damon is working, and decides to reveal parts of his past to Elena. Meanwhile, Elena and Jenna are concerned about Jeremy's relationship with Vicki. At a fundraising car wash, Bonnie is surprised by abilities she didn't know she possessed, and seeks advice from her grandmother (guest star JASMINE GUY - A Different World). Finally, Elena hears a disturbing story about the Salvatore family from a stranger.More
Air date: Oct 15, 2009
Elena demands that Stefan explain the frightening events that have been happening in Mystic Falls. In flashbacks, Stefan explains how his rivalry with Damon began. Back in the present, Damon impulsively takes control of Vicki's future, and a confused and frightened Vicki runs away. Sheriff Forbes (guest star MARGUERITE MACINTYRE - Kyle XY) and Mayor Lockwood (guest star ROB PRALGO - Army Wives) take steps to protect the town.More
Air date: Oct 29, 2009
As Vicki's behavior becomes more dangerous, Stefan tries to help her. Elena, meanwhile, tries to convince Jeremy to stay away from her. Caroline gives Bonnie a necklace she took from Damon to wear with her Halloween costume, and when Damon tries to take it back, he is surprised by Bonnie's abilities. Bonnie discusses the incident with Grams (recurring guest star JASMINE GUY) and learns more about her family's past. Trying to cheer Vicki up, Matt takes her to the high school's haunted house, but the evening soon takes a terrifying turn.More
Air date: Nov 5, 2009
On his birthday, Stefan is surprised by a visit from Lexi (guest star ARIELLE KEBBLE - The Grudge 2, Gilmore Girls), one of his oldest friends. Still upset by the events at the Halloween haunted house, Elena does her best to stay away from Stefan, but Lexi gives her some unsolicited relationship advice. Meanwhile, Elena and Jenna are surprised by a change in Jeremy's behavior and, at Damon's insistence, Caroline tries to get his medallion back from Bonnie. Plus, Damon's offer to help Sheriff Forbes (recurring guest star MARGUERITE MACINTYRE) has sudden and tragic results.More
Air date: Nov 12, 2009
Jeremy gets a break from the mysterious new history teacher, Alaric Saltzman (recurring guest star MATT DAVIS - Blue Crush, Legally Blonde, What About Brian), and introduces Alaric to Jenna. Bonnie is having terrifying dreams about one of her ancestors. Despite Elena's efforts to smooth things over, Bonnie and Caroline continue to argue over the medallion. When the girls hold a sťance to help them decide what to do, the results are stranger than any of them expected. Matt comes to Caroline's aid when she needs a friend. Damon finally reveals to Stefan the stunning reason he has returned to Mystic Falls.More
Air date: Nov 19, 2009
After reading the journal left by one of the Gilbert ancestors, Jeremy is inspired to return to his hobby of sketching fantasy creatures, a talent he had abandoned when his parents died. Much to the surprise of their friends, Matt and Caroline continue to hang out together. When Sheriff Forbes (recurring guest star MARGUERITE MACINTYRE) tells Damon there has been another attack, he offers to track down the killer and learns a startling piece of information about the town's founding families. Alaric (recurring guest star MATT DAVIS) steps in to help during an awkward scene with Jeremy, Tyler and Mayor Lockwood (recurring guest star ROB PRALGO). Stefan and Elena come to a new understanding, but everything changes when Elena accidentally makes a devastating discovery.More
Show More Episodes
The Vampire Diaries: Season 1 Trailers & Photos
Tv Season Info
Think you know vampires? You don't. Neither does Elena (DeGrassi: The Next Generation's Nina Dobrev), but she's about to. Paul Wesley (Everwood) and Ian Somerhalder (Lost) star in the series as two vampire brothers at war for her soul.
News & Interviews for The Vampire Diaries: Season 1
Friend Ratings for The Vampire Diaries: Season 1
No Friends? Inconceivable! Log in to see what your friends have to say.
Login
Audience Reviews for The Vampire Diaries: Season 1
There are no featured audience reviews yet. Click the link below to see what others say about The Vampire Diaries: Season 1!
Discussion Forum
Discuss The Vampire Diaries on our TV talk forum!