The Walking Dead: Season 1
(2010)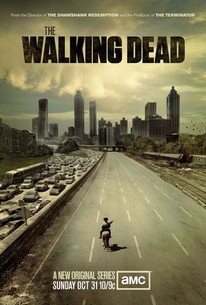 Rate And Review
The Walking Dead: Season 1 Photos
Tv Season Info
Adapted from a comic-book series, this horror drama follows the survivors of an apocalyptic holocaust who are searching for a safe haven while being tracked and menaced by zombies. In the first season, sheriff's deputy Rick Grimes (Andrew Lincoln) emerges from a coma to find few people but far too many flesh-eating "walkers" who have died and come back to life. A fellow survivor tells him there's a refugee center in Atlanta, so he heads there with hopes of finding his missing wife and son, eventually joining with others to fight off the walkers.
News & Interviews for The Walking Dead: Season 1
Audience Reviews for The Walking Dead: Season 1
A zombie classic, a compelling and emotionally powerful first season that leaves the door open for future thrills...

This season starts fast, with every event after event happening together. Starting one of the best stories out there. Group of survivors surviving a dangerous world that wherever you go, you are not safe. I don't think walkers being smart and run is a good idea for this show, but because how good this show is, this is not a problem. Any person should enjoy this season.

One of the best seasons in any TV show. I've seen it about four times and will probably watch it again

…if you like never-ending TV series, steadily but surely decreasing in quality overtime and that never, ever reach a satisfactory resolution, then that one is definitely for you! ….oh yes, there is also a lot of zombies and plenty of gore too! …enjoy the ride! (…yawn!!!)

Walking Dead Season 1 Plot: Our Protagonist Rick Grimes is a Sheriff who has his world rocked when he is shot in the chest while on a call with his partner Shane. He wakes up from a coma days later and finds the world he knew is gone. Walkers aka zombies now roam the halls of this broken down hospital. Rick tries to piece together what happened meanwhile Shane is with a group of survivors and Rick's wife and son who Rick finds missing from their home. The group later meet Rick and go on a wild goose chase to get to the CDC to find out what happened and if their is way back from this. Season 1 consists of 6 episodes which I believe was a great length for it's first season. It had a beginning a middle and an end, No fillers, just straight up story telling from one episode to the next. Sadly the show goes up in down in quality throughout it's entire run. Season 1 remains one of my favorite seasons because of it's excellent pacing, fear, scary at times even years later still spooks me lol.

With one of the best pilot episodes ever, TWD sets up an amazing television franchise with this first season! It's short and sweet, but has some problems that are sorted out in later seasons.

The best season in my opinion. Exquisite!

You can't beat this series. The attention to detail and the carrying of the zombie franchise torch is second to none. The characters are unforgettable with legit character growth and plausible apocalyptic outcomes in this harsh, stinky, bloody world.