The Walking Dead: Season 3
(2012 - 2013)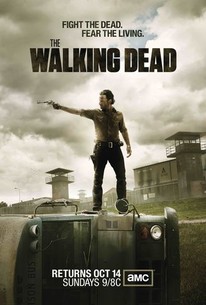 Rate And Review
The Walking Dead: Season 3 Photos
Tv Season Info
In series 3 of the AMC zombie drama, Rick (Andrew Lincoln) and his band of survivors finally find some shelter from life on the road. There are only two problems with their sanctuary: It's a prison; and it's infested with walkers. As the group struggle to lock it down and make it into a place where they can live safely, Lori (Sarah Wayne Callies) grows closer to giving birth, and her pregnancy storyline comes to a head in the harrowing episode "Killer Within." Meanwhile, Andrea (Laurie Holden) and newly introduced comic-book favorite Michonne (Danai Gurira) travel to the heavily fortified town of Woodbury, run by the enigmatic Governor (David Morrissey), a man harboring dark secrets. In other events, Rick is reunited with Morgan (Lennie James); Glenn (Steven Yeun) and Maggie (Lauren Cohan) grapple with romance in a world overrun by zombies; and tensions build toward a climactic battle between Rick's group at the prison and the Governor and his soldiers from Woodbury.
News & Interviews for The Walking Dead: Season 3
Audience Reviews for The Walking Dead: Season 3
Another great season of this great show. The survivors find a new place to stay on which is the prison, they faced walkers and some criminals. Also, fighting against a dangerous villain called the Governor who has a community and people fighting for him. This season has a lot of action and problems between the living who are the most dangerous in this season.

Alternating great moments and unbelievably stupid plot points, this season is still pretty good but wastes most of its potential.

Extremely well paced for starters. The season wasted no time getting Rick and the group settled into their new home. They waste no time establishing the governor or the fact that you should hate him. They get everything you need to see out in very efficient way and I appreciate that. Not only that but it's all very gripping. The gun fights hardly have any score playing in the background, so you just hear the surprise shots, and boom you're in the middle of what feels like an actual war. And they maintain that feeling of "anyone could die" by actively rewarding consequences to negative choices characters make. Characters die, get severely injured, captured. It all plays on the height of intensity. Not only all of that but theres a really beautiful character arc for Rick in this season.

The best season thus far. Engaging storylines bolstered by a stellar, growing ensemble cast.

Exquisite! Probably my second-favorite season. The governor was the icing at the top of the cake. Rest in peace Merle.

Season 3 gives the show an amazing atmosphere in the apocalypse with a compelling Villain and heartbreaking moments.

This gets better every season

This season was spectacular in my sight Everything in season is perfect. Screenplay, Performance, The soundtrack is top and many things. Very good

The writers are like "Hmmm, it needs a plot. What was it in the first two seasons? Oh. Sounds good let's do it." Did the zombies kill all the interesting people on the planet first? There's two moods here--"I'm gonna kill you!" and "Oh no! What are we going to do?". There is finally some inclination here and there that the living have a few more working brain cells than the walking dead though. It clearly takes itself seriously as a show yet the writing and some of the acting can't pull it off. Why watch? Because zombies, gore, violence, etc. I guess someone getting a machete to the forehead is supposed to be serious but it cracks me up. I can suspend belief easily that there was a zombie apocalypse, yet I can't wrap my mind around the fact that stupidest most boring people on the planet prevailed. Sixteen episodes of this schlock? Really? Six would've been more than enough. Talk about milkin' it AMC. Sheesh.