The Walking Dead: Season 4
(2013 - 2014)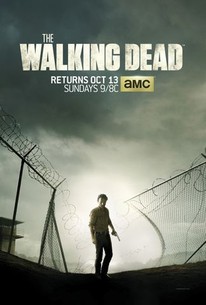 Rate And Review
The Walking Dead: Season 4 Photos
Tv Season Info
The fourth season of The Walking Dead finds Rick Grimes (Andrew Lincoln) desperate to rediscover his own humanity and preserve what he can of his son Carl's (Chandler Riggs) childhood through reinventing himself as a farmer while a counsel including Carol (Melissa McBride) and Daryl (Norman Reedus) in addition to several Woodbury ex-pats take on leadership roles. His newfound sense of peace is quickly derailed, however, when a mysterious illness begins to decimate the community. Elsewhere, the disgraced Governor (David Morrissey) roams the apocalyptic streets on his own until happening upon a family of survivors who reignite both his will to survive and take revenge against Rick, who he blames for the loss of Woodbury. Following a massacre at the prison, the group is splintered into several factions, none of whom can be sure about the fates of the others, and forced to find shelter among a population of survivors that can pose as much and often more of a threat than the walkers themselves.
News & Interviews for The Walking Dead: Season 4
Audience Reviews for The Walking Dead: Season 4
A slow season, but still from the events happening at the prison, the infection, to the final attack from the Governor. The survivors get from the destroyed prison to any place they might live in because anywhere they went, they face big problems with other survivors.

The first half is the most boring the show has ever been. This season, however, manages to redeem itself through a gripping second half.

It's my favorite TWD season, all the drama and action is perfect, the actors did a very good job.

A slight step down from the previous season. Little movement forward, but the same tightly-written character drama occurs.

I love this show very much

Season 4 continues the show's momentum and brings fun adventures and heartbreaking moments that leaves audiences satisfied.

Well written series with a great cast.

This season was spectacular and sad at the same time The role that surprised me was that of the governor (David Morrissey), very well interpreted and dark. And the rest is all very good Perfect

Yeahhhhhh ummmm. . . about 2 hours of material stretched out over 16 episodes. This show is the most drawn out, overrated show I've ever watched. I can deal with the corny drama but can't it be like 10 episodes? Even then it would be a little too long. Hardly anything happens. What does happen is not interesting. Besides, can't these morons figure out how to reinforce a fence at least? At least after 40 hours worth into the show they figured out how to use a knife. Good job you freakin' idiots. Absolutely garbage writing with only a couple reasonably good character actors. It's all angst and no horror. It's great if you want to see people wandering around the same patch of woods from season to season. They're also some very anti-climactic "reveals" about some of the main characters that are sooooo lazy on the part of the writers. I wished it was left up to my imagination. My imagination is at least interesting. Zzzzzzz.

Season 4 of TWD is AMAZING! This is the best season yet, by far, and I love all of the plot development and the introduction of Terminus is GREAT!! Can't wait to watch Season 5!!!