The Walking Dead: Season 5
(2014 - 2015)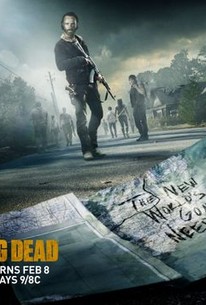 Rate And Review
The Walking Dead: Season 5 Photos
Tv Season Info
Season 5 of The Walking Dead picks up shortly after Season 4 left off, and we follow the people of Terminus as they attempt to find a cure in Washington, D.C. As they begin to lose comrades, the fate of the group becomes unclear, more so when they gain new locales and, with them, new conflicts.
News & Interviews for The Walking Dead: Season 5
Audience Reviews for The Walking Dead: Season 5
A great season starting with the survivors getting their way out of a dangerous situation, and then after some moments of no hope, they arrive at a community named Alexandria.

The beginning and end of the season are great. The large chunk of the middle is boring, unfortunately. The hospital storyline is the worst.

Unless seasons 9 or 10 prove me otherwise, this is the best the show has ever been.

The show outdoes itself in this season. A very strong first half, followed by a couple of misteps toward the end.

Sin duda una de las mejores temporadas de toda la serie!

Season 5 will forever be The Walking Dead at it's best, with powerful character development, Story telling, and action.

I think the seagulls on top of my dumpster are more entertaining and have better dialogue than this. Maybe the writers are actually in the dumpster feeding them their lines. Was this a 5th grade writing project? My class did better acting in my fourth grade play "Fiddler on the Roof". Actually, I don't want to degrade that experience by bringing it up here. If you're going to be in the horror game and have a bad script and acting, embrace it. Don't try to be serious. It's an insult to the viewer. It's the sort of thing a 14 year old smoking their first doobie thinks is deep. It's not. Actually, I probably would have loved this when I was 14. Newsflash: I'm not.

Out of the first 5 Seasons of TWD, this is the best season yet. BY FAR! The introduction of many new characters and a new location called Alexandria makes it that much better. Super interesting. Also, the action and gore is very on point and amazing. I bet Season 6 will be even better than this season!!