The Honorable Woman: Season 1
(2014)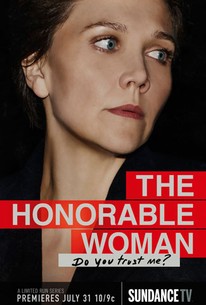 Rate And Review
The Honorable Woman: Season 1 Photos
Tv Season Info
The daughter of an assassinated Zionist arms dealer seeks to legitimise the family business while righting the wrongs done to them in the past.
News & Interviews for The Honorable Woman: Season 1
Audience Reviews for The Honorable Woman: Season 1
Intelligent, witty, mysterious. Great show! Binge watched all 8 in 2 days!

Well, watched the whole series and looking back don't know why I wasted so much time. Wouldn't do it again. Convoluted beyond belief and overly Anti-American. Maggie's performance was great but it isn't enough to carry the story line and all its one dimensional cast of characters.

This is one of the most compelling, most riveting mini series I've seen in a long time -- quality is on the order of a le carre novel. critiques have cited that it is too complicated and slow in parts -- which may be true. However, these are minor shortcomings that are far outweighed by the quality of the story and the acting. This is brilliant writing, and a series well worth the time.

Daring and edgy. Taking a jab at politics.

This movie should have been called the The Stupid Rich Woman. If your intent was to once again make America the fall guy and to make women appear to be stupid, devious and vicious, to further their career, you have succeeded

Engrossing with amazing acting. Well worth your time.

When slowburn, espionage and geopolitical quagmire converge, you got The Honourable Woman, one of 2014's bests with a fresh narrative to tackle a complex and sensitive topic and a riveting climax to reward those who are patient. Gyllenhaal leads a cast of characters all solidly written, their stories can spin off into more episodes or seasons (sadly, this will not be the case).

Exceptional writing. Unbearably tense, sometimes hard to follow but ultimately very rewarding.

Wow - just so incredibly well written, well performed, and well photographed. The characters and the story are really engaging. Brilliantly done.

Damm near perfect spy series . Much better than Homeland or The Americans combined!