The Middle: Season 8
(2016 - 2017)
SEASON: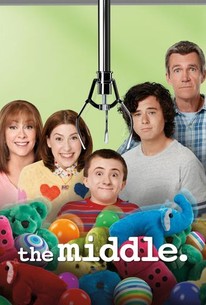 Rate And Review
The Middle: Season 8 Photos
Tv Season Info
The Hecks – Mike (Neil Flynn) and Frankie (Patricia Heaton) – face the inevitability of an empty nest, with their daughter Sue (Eden Sher) and son Axl (Charlie McDermott) in college and out of the house and their younger son Brick (Atticus Shaffer) in high school. A family crisis occurs when Axl gets involved with a not-too-bright girl named April (Greer Grammer). Because of his quirks, Brick finds high school life a challenge and struggles to maintain his relationship with Cindy (Casey Burke). Rounding out the cast of "The Middle" are Alphonso McAuley as Hutch, Tommy Bechtold as Kenny, Daniela Bobadilla as Lexie, Jovan Armand as Troy, Sean O'Bryan and Jen Ray as Ron and Nancy Donahue, and Pat Finn and Julie Brown as Bill and Paula Norwood. Brooke Shields, Dave Foley, Norm Macdonald, John Cullum, and Emily Rutherfurd return for guest appearances.
News & Interviews for The Middle: Season 8
There are no critic reviews yet for Season 8. Keep checking Rotten Tomatoes for updates!
Audience Reviews for The Middle: Season 8
This show has just continued to stay funny even after these fantastic 8 seasons.

This goes to show that even after this much time on the air, The Middle remains to be intriguing, fresh, and witty. The characters have developed positively, however have not lost their spark that made the series enjoyable in the first place. The Middle is a strong and consistent comedy, and probably deserves a lot more recognition than it receives.

My family and I love this show! The family is so relatable and the cast couldnt go better together. This is a must watch show every week!

love, this show, its our family's favorite. please bring back a season 9

The Middle was never a super hit for ABC...it never topped the charts like Modern Family and The Big Bang Theory but it always seems to deliver at least a few hearty laughs each week. The cast has always been top notch yet ignored mostly by Emmy voters.... Yet this show continues to chug along each year on ABC currently renewed for a 9th season come this September..... It is definitely an above average sitcom. What is special about this season is that the characters, who critics could say were one dimensional, are finally morphing into well rounded humans.... Especially Sue the Heck daughter. Sue is starting to see life as it really is..... she is shedding the Pollyanna ideals - yet slowly.... Sue is finally thinking outside of the box without help from others.... Brick the youngest son who has always been "strange" is starting to come into his own. Where as his family was always there to protect him and make excuses, Brick is finally emerging as "this is me and I do not care if you like me or if it makes me popular" .... He is accepting his "oddness" and others will too. Eldest son Axel has finally also realized Mom and Dad will not be there to clean up my messes anymore... A recent episode where he realizes he is graduating and needs a REAL JOB if he ever wants to achieve success or happiness hit him like a ton of bricks.... As the kids age and mature with dating and learning how to be adults the parents Frankie and Mike are left to deal with their children growing up as well with the impending "empty nest syndrome" ... A recent episode featured a baby and it appeared the writers were setting us up for a late in life pregnancy for Frankie-However in my opionion that would be the "jump the shark" moment.... the fact that Frankie and Mike thought it would be nice to once again have a baby around we think they realized that waiting a few more years to have grand children may be the most practical response..... Overall I will say kudos to this cast ....not many family sitcoms last this long. Even Roseanne stumbled in its last few seasons as cast left the show or we were delivered crazy story lines....The Middle is a gem and congratulations on an early Season 9 renewal....