Saturdays of Thunder
EPISODE: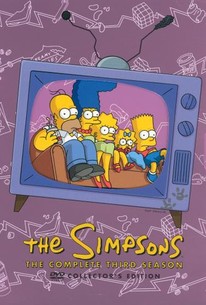 Episode Info
After taking a quiz from the National Fatherhood Institute, Homer Simpson (voice of Dan Castellaneta) comes to the sobering conclusion that he knows next to nothing about his son Bart (voice of Nancy Cartwright) and that he needs to become closer to the boy for the good of them both. Homer discovers Bart is building a car for the annual Soap Box Derby, and decides to help. However, thanks to Homer's limited skills as a handyman, they end up with a car so shoddy it can't even finish the race. While Martin (voice of Russi Taylor) has built the best car, due to his limited skills behind the wheel he hurts his arm in an accident and can no longer drive. Martin persuades Bart to take the wheel of "The Honor Roller" in the interest of beating school bully Nelson (voice of Nancy Cartwright); Homer is crushed that Bart would rather drive a racer built by someone else, and ignores how much he's learned about his son from their time together. "Saturdays of Thunder" was first aired on November 14, 1991.
Saturdays of Thunder Photos
Discussion Forum
Discuss The Simpsons on our TV talk forum!