Bart's Inner Child
EPISODE: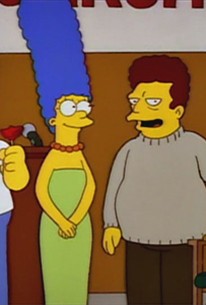 Episode Info
When Homer Simpson (voice of Dan Castellaneta) brings home a trampoline and most of the neighborhood children quickly proceed to injure themselves on it, Marge (voice of Julie Kavner) once again finds herself enraged with her husband, and she's afraid the tension is taking a toll on their relationship. At the advice of her sisters, Patty and Selma (both voiced by Kavner), Marge gets a videotape by self-help guru Brad Goodman (voice of Albert Brooks), and soon Homer and Marge are both spouting his self-help psychobabble. When Goodman makes a personal appearance in Springfield, Marge insists the entire family attend, and after a predictable outburst from Bart (voice of Nancy Cartwright), Goodman tells the crowd that Bart represents the free and uninhibited inner child we need to find within ourselves, and tells the city they should strive to be like Bart. Practically overnight, Bart becomes a role model, but he soon finds it's not much fun being a rebel with nothing to rebel against, while the rest of the town comes to realize there's a downside to following Bart's example. "Bart's Inner Child" first aired on November 11, 1993; soul legend James Brown makes a guest appearance as the star attraction at Springfield's first-ever "Do What You Feel Festival."
Bart's Inner Child Photos
Discussion Forum
Discuss The Simpsons on our TV talk forum!