Treehouse of Horror IX
EPISODE: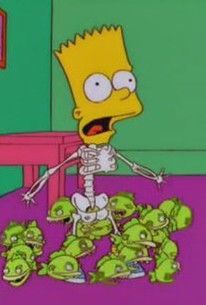 Critic Consensus: No consensus yet.
Episode Info
The creative team at The Simpsons once again celebrate Halloween with a special episode featuring three short tales of the macabre. In "Hell Toupee," habitual criminal Snake (voice of Hank Azaria) is put to death for smoking in public, and he swears revenge against the men who helped put him on death row -- one of them being Homer Simpson (voice of Dan Castellaneta). When Homer decides to battle baldness with a hair transplant, he ends up having Snake's pompadour fused to his scalp, and soon the hairstyle develops a murderous life of its own. Marge (voice of Julie Kavner) forbids Bart (voice of Nancy Cartwright) and Lisa (voice of Yeardley Smith) to watch the Itchy & Scratchy Halloween Special in "The Terror of Tiny Tune," and she goes so far as to take the batteries out of the television's remote control so they can't tune in to the show. Bart replaces the batteries with what turns out to be plutonium, and it supercharges the remote, sending Bart and Lisa into a hellish TV-based alternate universe. And in "Starship Poopers," baby Maggie begins behaving very strangely (sprouting fangs, growing tentacles, attempting to attack her fellow family members), and Marge is forced to make a startling confession -- Maggie was actually fathered by Kang (voice of Harry Shearer), an alien bent on taking over the Earth. When Kang and his partner in crime Kodos (voice of Dan Castellaneta) come to Springfield to take Maggie to their home planet, the family refuses to cooperate, so they go to a neutral ground to negotiate the matter -- the set of The Jerry Springer Show. "Treehouse of Horror IX" includes voice cameos from Robert Englund as Freddie Krueger, and Jerry Springer, Ed McMahon, Kathie Lee Gifford and Regis Philbin as themselves; the episode first aired on October 25, 1998.
Treehouse of Horror IX Photos
Critic reviews for Treehouse of Horror IX
ATTENTION: SOME OF THE QUOTES BELOW CONTAIN SPOILERS
It's not a great look when your parody of a movie isn't as funny as the movie itself.
Discussion Forum
Discuss The Simpsons on our TV talk forum!