The Woods: Season 1
(2020)
You might also like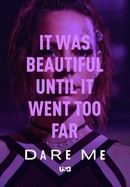 Rate And Review
The Woods: Season 1 Photos
News & Interviews for The Woods: Season 1
Audience Reviews for The Woods: Season 1
Unfortunately, The Woods is a bore and a chore. I don't mind slowpacing but this is excruciating. Watched 1 & 1/2 episodes. Those 90 minutes were endless and seemed at least 4 hours long. The narrative isn't compelling, the story is hazy and ill=defined, the characters uninteresting and odd (not in a good way). Part of the problem is it's dubbed into English from Polish. Even if you're looking at your phone your laptop while it's on, you can still hear it's dubbed due because the audio has a weird, contrived, tinny, non-spontaneous quality of actors recording lines into a mic, in a studio overdubbing some other actors' lines. Maybe because it's based in another country/culture, it's hard to know whether all or some of the awkwardness is due to cultural differences or-whether the writing and acting is awkward and not particularly good. Example: macho teenaged boys singing Polish nursery rhymes or folk songs(?) while taking off their shirts and jumping on furniture. Ultimately, it doesn't really matter. For me, The Woods was suffocating.

A Very disappointing boring crime show. Not a big story. Slow for no reason. Hard to relate to any of the characters. Horrible music score. Seen the type of series made a thousand times better from Sweden and the UK.

I see no point in making a movie then dubbing over the voices. You lose the emotion, inflection. This one sounds like one of the old dubbed king fu movies.

Very impressed with this show, great screenwriting and cinematography. Loved it

Silly plots, Huge plot holes, dialogue that doesn't make sense.

I enjoyed this a lot. Definitely worth sticking with.

There is a difference between a slow burner and a slow motion bore. The Woods frequetly travels between the two. The back story is told in frequent flashbacks that seems arbitrary in their timing, the two present-time storylines are less than gripping. Some major plot points turn out, in retrospect, to be implausible. There is a lot of good acting, but much overacting. Had this been a three-part miniseries instead of a six-part one, the story could have been told fully, still leaving room for psychological depth.

Seeing as my last review was binned, I'll try again ; Their attempted foray into dramatic content fails miserably ; They don't have writers worth salt, the casting is embarrassing ( more so than the "acting" ) and the whole delivery is just off ?

Great show. Wonderful acting

Good show, compelling mystery, would recommend.