Those Who Kill: Season 1
(2014)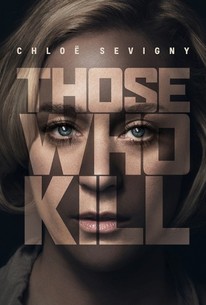 Rate And Review
Those Who Kill: Season 1 Photos
Audience Reviews for Those Who Kill: Season 1
I watched the whole thing and Chloë Sevigny is great! She's mature on set of such despisable subject matter, in the drama of solving and helping. She seems attractive beyond her years and seems very popular and well-liked by others, of all ages, same generation, younger generations, and older generations. It seems she is well-liked where it is hard to be accepted. I think I saw another cool person from her generation, Jessi Klein, I know a cool stand up comedian among other things, get excited at the mention of Chloë Sevigny's name.

I quite like Chloe Sevigny and James D'Arcy but 2 episodes and I'm done with it. There are gaping holes in the script/plot and it all feels very shallow And lacking in detail. A poor vehicle for the actors. Although it's loosely based on the Danish series of the same name I found the Danish version far superior.

Excellent show. One of the best crime thrillers out there.

First episode was really good and it seemed to really go downhill from there. Great series for lifetime channel.

It keeps my interest...great performance by chloe

OK, as a lifelong film/televison fanatic & collector, I'm a realist. The fact that the Pilot aired on A&E & then it was relagated to A&E's 'sister' network Lifetime Movie Network to finish out it's 1st Season run of 10 episodes is NOT a good sign! On the flip side, AS a fanatic of the film arts, I'm also one who wishes & hopes beyond reason (sometimes). & this is 1 of those times. This, to me, is probably the best, most original, well-cast, well acted Police Procedural that doesn't play out like a typical Police Procedural! OK, 1st point-Chloe Sevigny, whom I've LOVED for 19 years (!) since "Kids" & "Boys Don't Cry" . Her portrayal of Det. Catherine Jensen is SO convincing, she-like she always does to me, just sucked me right in. James D'Arcy as Schaffer was the perfect casting fit. I admit, I'm not as familiar w/ his work, as a matter of fact I only have seen (& own) 2 of his films. But having an intimate knowledge (inc a Degree) in/of Forensic Psych myself, I can tell you that he plays it straight-his portrayal is very accurate to how many of those in that field of work act, think, etc. Then they put James Morrison in it? For me, that was like the prize @ the bottom of the cereal box! "24" is my all-time favorite show & he was in 4 Seasons of it! The storylines were so engrossing, it became 1 of those very few shows in which I loose time during. & when credits roll I wanted more, but I was left w/ so much to process that THAT was fun. Although there are 'cliffhangers', & it doesn't always take only 1 episode to catch the antagonist, each episode has it's own integrity, as well! The dark, oftimes gloomy surroundings of Pittsburgh was both the perfect location to film & set the fictional locale. & although several Directors took the helm for different episodes, all were done in a very calculating way-the way TO tell a mystery. The odd camera angles, & the Directors (in particular the Pilot) made you think that the directing was fast-paced, but it really wasn't...it was even-keeled, w/ a slight Hitchcockian feel @ times. & w/ the amazing supporting cast (Bruce Davison, Michael Rispolli-!!!), the 'toss the ball' scenes were more interesting than w/ most shows. Well, I loved it, but as I afore-wrote I'm a realist. I know that a 2nd Season is SLIM to NONE, w/ my only 'saving grace' being that it will probably be released in the Fall on DVD as a "Complete Series" BoxSet. & I will treasure it in my collection for the amazing, suspenseful, engrossing, & well-written show that it is (or was). Why didn't it work? Some say too violent-I can see that. But those who wrote that it was monotonous? What the heck are YOU watching?

Highly suspenseful series that hopefully returns for another season. A great crime drama that has left many questions still unanswered.

When zombie violence is more exciting, suspenseful and purposeful than serial killer violence, someone needs to go back to film school. There are a lot of good elements here; why this show isn't better is really confusing.