Transporter: The Series: Season 1
(2014)
SEASON: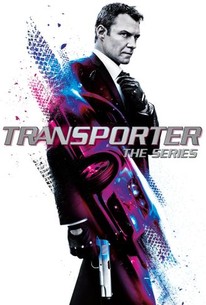 Rate And Review
Transporter: The Series: Season 1 Photos
All Critics (2) | Top Critics (1) | Fresh (1) | Rotten (1)
Action heroes should be superior, not act superior. Action-starved boys probably won't be so picky. Transporter: The Series won't transport them, or even move them.
Viewers willing to settle, or who are unfamiliar with the films, may find the the show entertaining enough to watch.
Audience Reviews for Transporter: The Series: Season 1
Luc Besson's The Transporter is adapted for the small screen as a weekly action-adventure television series. Season 1 is presented as a continuation of the films, but is reworked to give courier Frank Martin a team in the form of a private mechanic to fix his cars and an agent to vet his jobs and handle the clients. However, this proves problematic and causes some unevenness, as the characters are always doing separate things and don't really work as a team. And the plots are extremely formulaic, with the job often going wrong, forcing Frank to turn on the client in order to do what's right. There's also an over-arcing plot throughout several episodes about a mysterious women who spies on Frank and tracks his movements. Chris Vance gets behind the wheel as Frank Martin, and while he's fairly good with the action scenes, he doesn't have much charisma and seems miscast. In fact most of the acting is poor, as is the directing. And for some strange reason gratuitous nudity shots are randomly worked into most of the episodes. Season 1 of Transporter: The Series is incredibly clichéd and mediocre, and fails to capture the fun and excitement of the films.

this is An action series with lots of car action scenes and hand-to hand combat filmed in beautiful european cities and countrysides. the story is simple: Main character Frank martin is a transporter who transports things from a to B. these deliveries often come with trouble that frank has to fight or evade. People who have seen a transporter movie should know what to expect. MOST EPISODES ALSO HAVE A BIT OF NUDITY TO COMPLETE THE BOY FORMULA OF CARS, FIGHTS AND GIRLS. The story lines are rather simplistic and merely serve to provide reasons for all the car chases and fighting. CHRIS VANCE DOES A GREAT JOB OF PLAYING FRANK MARTIN. BETTER THAN JASON STATHAM, IN MY OPINION. HE MAKES FRANK MARTIN INTO A VERY CHARISMATIC TRANSPORTER WITH GREAT FIGHTING STYLE. Vance carries the show, so you'll like the show if you like vance.

Great action! The second season is milder in the profanity and nudity department. Good show despite the for mentioned!

So much potential, so poorly executed. The cars have 27 gears as they up shift every time they are shown in a scene. They have super fast Audi, yet every other car, make and model can catch it. Then, the driver can do tricks that no car can actually do. The concept great, so, so, so poorly done. I can't even blame it on the acting necessary.

Season 1 was amazing. season 2 with the x-files director total abortion. the transporter is supposed to be about amazing car stunts and action in between example season one. season 2 is a load of crap. why they said hey we have good ratings but lets fire this guy to see if we can do better is obscene. the new director ie x-files that showed had horrible writing to begin with. now sports a back story for the character every episode rather than making it interesting and making a show long lasting. in the 9 episodes ive painfully watched of season 2 ive seen less car action then in one episode of season one. in season one u can expect to want to put your phone down and enjoy the show like a fantastic 45 minute movie you would watch multiple times. season 2 on the other hand just makes me wonder why i keep watching in hopes that it will be good again with such a horrible director. after this season if i can even stomach to finish it i'm done and i hope this show gets cancelled but i will gladly watch the first season many times.

I am a car enthusiast and i was not amused. Before reading this you may want to think if you're really going to be interested to read about a car fan boys annoyance, towards a fully car related film. Firstly obviously you can assume h' he's heavily modified the engine and everything, but most of this man's accessories seem to be very much exterior. Firstly onto the ridiculous shifting up and down, making reference to the A8s lack of manual gearbox or flappy paddles. Really an rs6 saloon would have been the ideal choice of car for this film. I find the character to seriously lack any fear at all and even though there's said to be former military training, i'm not sure a beaming smile is realistic straight after a little shoot out. Physics something that seems to lack in a few scenes also a lot of speeding car repeated clips, such as overtaking the same car over and over. Simple bad choices! Not really my cup of tea.

Audi commercial with completely uninteresting setup. Turned off after five minutes of car glamour shots.

It could always be better

I like Chris Vance but the swagger he's adopted for this show is as if he's trying to be a 1980s James Bond rather than the Transporter we really love.