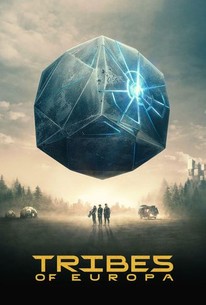 Where to watch
Subscription
Rate And Review
Tribes of Europa: Season 1 Photos
Audience Reviews for Tribes of Europa: Season 1
I liked it .there are many sci Fi similar shows but it was a tad bit different that's why I waited so long for second season .it's sad that Netflix keep making seasons of shity series but they forgot about this one .This series deserves a better platform

Post-apocalyptic intense, bleak and violent survival stories.

esta serie de fantasia va a satisfacer todo fan de la distopia

Started a bit slow but necessary for where it ended up with the end of season 1. Plenty to continue with and lots of great character development.

I started this show not expecting much… I was blown away at how much I liked the first season! I was very interested and paid full attention as each episode went on… for me that's hard to do as I'm always looking at or messing with my phone, I really hope there's a season two because I love this fantastic story!

I absolutely love this show! Great acting and the whole production gives a quality feel to the creation of a dystopian reality. I really hope we see series 2 being produced and more!

Don't know why all the hate on this show , it was so epic and still waiting for second season

The people, as audience reviews tend to do, are lowballing this because they think they're siskel and ebert or some shit. This is why so many great shows get canceled early. people's stupidity and hubris. This show is excellent. Far better than any of the english speaking sci-fi shows I've seen in the past few years. Well, other than Altered Carbon that was canceled because of idiot user reviews. I beg you, producers, know that these idiots giving it three stars will still watch the next season. please don't cancel this too.

As a German (watching in German) I can only say that it wasn't as bad as I feared ( I do not expect much from German productions) but the acting was still unconvincing, the actors seemed to be trained for theatre, which made all the dialogues sound unnatural and took me out of the plot. Not that the plot was great, it was quite predictable, too soapy and did not really make me feel anything for the protagonists nor did it have anything new or interesting to say about postacopalyptic worlds. 2 stars for an okay look and for trying (?), maybe it's less terrible in the dubbed version.
See Details