Tribes of Europa: Season 1
(2021)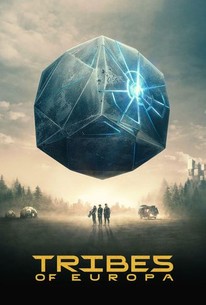 Rate And Review
Tribes of Europa: Season 1 Photos
Audience Reviews for Tribes of Europa: Season 1
Awash in stereotypes: the stunningly beautiful warrior maiden, the lovable rascal with a heart of gold, a cruel, monstrous woman who enjoys torturing her male adversaries, a brave hero who learns the importance of strength tempered with compassion. The dialogue is stiff and pretentious. Torture, death, and gore galore. Don't believe the excessive praise. This one's just plain mediocre.

Tribes of Europa is a better-than-average sci fi action adventure. The acting is just alright. The storyline is loaded with cliches. The effects and cinematography are solid, but sometimes have a second-tier vibe. There's definitely a been-there-done-that sense to the show. But it still works. The action is constant. Character decisions actually make sense most of the time. There's enough uniqueness to make it a fun story. I hope it gets a second season.

Me encantó, las escenas brutales que me dejaron impacto con la boca cubierta por una mano, la historia que simplemente es increíble,el desarrollo de los personajes todo lo que aprenden en su camino a reencontrarse,la poca censura que hay o buena esa increíble forma de mostrarnos todo sin tapujos me encanta simplemente gracias por eso, la confrontación entre padre e hijo fue increíble quedé devastado llorando y en shock no podía creerlo. Esta serie es perfecta, deseo ver más, quiero más.

Excellent production value and a pitch perfect cast elevate this dystopian epic to promising heights! Immensely engaging and enjoyable!

Fantastic series dramatic very intense thrilling and stunning performances

Cheap, boring and NOTHING makes Sense.

esta temporada es genial con grandes giros en la trama haciéndola sensacional

The upside: Camera and editing - some really nice views and vistas here. Looks like someone played a lot of ELEX... The downsides? Unoriginal and a trope checklist. "Europa", but 99% of the people speak German (and some English). The best acting is daily soap level, but some of it is much worse (ie. David). The Germans speaking is either overemphasized theatre class level or terrible mumbling that made be consider subtitles. But what for? The writing is so cliche and paltry - not worth it. The script has huge plot holes, times and distances often make no sense at all. Often characters do really silly, senseless things, just that the story can reach the needed checkpoint... urgh. And a lot of thinly veiled propaganda. The "good" Crimson, oh so inclusive are the descendants of EuroFor, quote "The best thing the EU has created", and their logo resembles NATO. The bad guys ("Crows") are a mix of Wild Boys/Mad Max post-apo decadence and SS-chic and wear Russian names ("Vavara") and titles ("subotnic"), and of course The Great Threat comes from the East.

A series most definitive worth watching! Could be a new kind of "GoT" if u ask me. Language usage could be even more abudant, but seeing a setting based in europe based on mostly german and english is very enganging. Could wish for more though. More French and and "fringe-german" countries. Hope more will come!

Oberflächliche Serie mit Stereotypen und wenig glaubhaften Charakteren. Bisweilen soll Brutalität über die fehlende Handlung hinwegtäuschen, doch sie beschränkt sich zu sehr auf Schreckensszenarien als Selbstzweck, welche die Geschichte weder voranbringen noch glaubhaft machen können und keine Empathie bei den Zuschauer*innen zu wecken vermögen. War die Handlung in ihrer Dystopie und Ausweglosigkeit bis hin zum Psychodelischen bei Dark wenigstens noch halbwegs logisch konkret und Gewalt kein völlig sinnfrei verwendetes Stilmittel, so fehlen selbst diese zarten philosophischen und moral-ethischen Ansätze Tribes of Europa leider vollends, so dass die Serie in ihrer eigenen Belanglosigkeit erstickt und der/die Zuschauende mit dem Gefühl verschwendeter Lebenszeit zurückbleibt.