The Return: The Return
()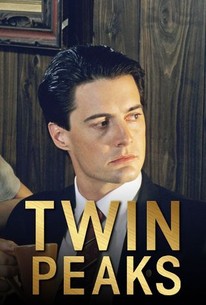 Rate And Review
The Return: The Return Photos
News & Interviews for The Return: The Return
Audience Reviews for The Return: The Return
I am writing this after almost 3-4 ish months of me being done with this series. This is the one show I really had to digest before I immediately wrote a review. My initial reaction after finishing it, I absolutely hated it. I could not believe I wasted 18 hours for virtually nothing. So why a four star review? I really still can't say. I feel like actively watching twin peaks and thinking about what I just watched are two different things. I look back and think how the nuclear bomb episode plus when Cooper finally snaps out of his trance are just truly beautiful moments. I actively cheered when Cooper finally said "I am the FBI." Would I welcome a season four? Yeah why the hell not.

If you are looking for a show that makes sense, then this is not for you, but if you are looking for an beauty camerawork, great characters and interesting story, then this series has it all. You make real memories watching it and continue thinking about Twin Peaks long after finishing it. Overall I believe this Tv series to be a masterpiece and definitely one of the best series ever produced.

No matter how hard I try I just cannot bring myself to give a crap about half the stuff that happens in the return. There is some mild nostalgia value, and for sure the high points of the show were those that actually took place in Twin Peaks. Ultimately, the show didn't much go anywhere. I was a fan of Twin Peaks as a town, as a show, with it's quirky inhabits and surreal subplots. I think the return went a little too off into the deep-end for me personally and left me unsatisfied. The pretentiousness of other fans when I try to voice my opinion irl is truly frustrating- I don't think this is an objectively bad show by any means, but I think it will appeal more strongly to those addicted to Lynch and think the odder the better; not necessarily people who wanted a more concrete addition following a style more in line with the original show.

So crushingly disappointing! This had nothing to do with the original Twin Peak! It didn't even belong to the same world!

Twin Peaks (early 90s) and Mulholland Drive are stunning, haunting, unequalled masterpieces but only those who place allegiance to David Lynch ABOVE viewing enjoyment can love The Return. They will tell you it's funny, it isn't. They will tell you the incredibly long pauses and non sequitors add to the experience, they don't. Careful when they tell you it has poignant and triumphant moments, Lynch could film a dead squirrel on the road and they would feel that way about it. However, if you're willing to lower your expectations, watch The Return for its sights and sounds, they are quite unique. As for the story, Lynch himself (paraphrasing) has said his art is always a puzzle with missing pieces. Some people find wild enjoyment in endlessly sleuthing (in vain) for those pieces but if you have no desire to go down such a rabbit hole, you won't be a fan of the 'story' of The Return.

Although this season of Twin Peaks hinted at times that it was going to wrap up the many plots and subplots and weird elements in a satisfying way, it ultimately failed to do so. But, with all its weirdness and kinks and odd characters who make little sense. it was still fun to watch. My favorite part of it was Dougie.

Painfully boring third season. Season 1 and 2 were strange, and often down right creepy, in a "Statutory Relations" kind of way. But season 3 was all but unwatchable. Without the adult/underage sub-plots - Lynch has nothing - except a load of self indulgent drivel and some low budget (not so special) effects. I'm actually ashamed of myself for wasting part of my life, watching it till the end.

Twin Peaks ended in a completely different way than it started. As much as season one was pretty straight-forward, season three makes it all tortuous. Don't get me wrong, this is a good thing to a certain extent, but there is something that bothers me. If watched normally, it is nothing more than a good show with weird bits here and there, but if you truly want to unlock its full meaning you need to understand the hidden interpretation. However, what I don't like is that there is no way a normal person can do so on their own, and when you read or watch an explanation it feels like your experience is getting spoiled. What's the point of blowing our mind if the person who does so is not the director but a random YouTube guy? It's quite frustrating and unsatisfying.

Look - this is not an easy piece of media to watch. It's frustrating, beguiling, esoteric, and extremely slow. If it's not for you, it's not for you, and I wouldn't try to force yourself to like it. Having said that... This is one of my all time favorite things ever made. I watched the original Twin Peaks on a netflix-binge about 10 years ago. I got really into it, loved it, even watched the whole (mostly terrible) second season...but then I was so gobsmacked at how much I hated Fire Walk With Me that I was turned off of David Lynch for years to come. I entered Season 3 saying to myself "Lynch isn't gonna give me anything I want as an audience member," and just accepting that really helped me meet this piece on its own screwed up terms. On the first viewing, it felt like everything was just a bunch of random stuff thrown together and I couldn't really make heads or tails of it but it was so absorbing. The 2nd and 3rd viewings were mind-blowing. It's so well crafted; it evokes in me so many questions about identity and our understanding of reality. I just love it.

One of the GREATEST pieces of filmmaking I have ever seen. I know it aired on television, but David Lynch directed (directed the hell put of it if I might add) this whole thing as one long 18 hour movie. But was obviously slip into 18 part episodes. This (Show? Movie?) really is that good.