Two and a Half Men: Season 1
(2003-2004)
SEASON: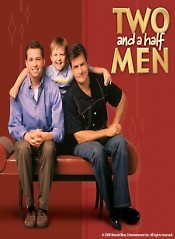 Episodes
Air date: Sep 22, 2003
Commercial jingle writer Charlie Harper (series star CHARLIE SHEEN) is a wealthy bachelor with a house at the beach, a Jaguar in the garage and an easy way with women. But his Malibu lifestyle is interrupted when his uptight chiropractor brother, Alan (series star JON CRYER), arrives unexpectedly with Alan's 10-year-old son, Jake (series star ANGUS T. JONES). Alan's wife, Judith (series star MARIN HINKLE), suspecting that she may be gay, wants a divorce.Charlie reluctantly allows Alan and Jake to live with him temporarily, but as it becomes increasingly obvious that Judith is never going to relent, Charlie and Alan's self-obsessed, controlling unmarried mother, Evelyn (series star HOLLAND TAYLOR), offers to let father and son live with her. However, by that time, Charlie has formed a close bond with the clever Jake, even learning a few things about poker from the boy. Charlie also finds out that pretending to be a single dad with a cute kid can be a great lure for women.Meanwhile, Charlie tries to evade Rose (series star MELANIE LYNSKEY), an attractive, offbeat neighbor who had a brief fling with him and remains determined to stay in his life by whatever means necessary.Missing Jake, Charlie surprises even himself and asks Alan and Jake to live with him permanently. Despite their strained relationship, the brothers discover that they have one thing in common: They both love Jake and want what's best for him. Together these two-and-a-half men face the challenges of growing up.More
Air date: Sep 29, 2003
Unsure how to properly discipline Jake, Charlie ignores him after the child "forgets" to stop feeding the seagulls and leaves the door open. As a result, the gaggle of birds enters the house. Meanwhile, Alan gets a surprise from Judith when he goes home to fix her sprinklers.More
Air date: Oct 6, 2003
When Alan's attempt to provide Jake with a fun-filled father/son weekend backfires, Charlie tries to console his brother by taking him to a local bar and getting Alan totally inebriated. As Alan and Charlie travel home, their meddling Cab Driver (DARRYL SIVAD), hearing the brothers' woes about their narcissistic, controlling mother, offers them some unsolicited therapy.More
Air date: Oct 13, 2003
Charlie's longtime cleaning lady, Berta (recurring guest star CONCHATA FERRELL), quits her job, and Charlie quickly realizes he can't function without her. When Alan tries to take Berta's place but doesn't succeed, Charlie sends him to lure her back. Meanwhile, Alan places Charlie in charge of getting Jake ready for Judith, who is coming to take her son out for a nice dinner with her parents. Rock star STEVEN TYLER of the band Aerosmith does a voice-over as himself.More
Air date: Oct 20, 2003
After a drunken night in Las Vegas, Charlie reluctantly attends one of Jake's soccer games. But Alan and Charlie soon discover the advantages of going to these matches. The players' mothers are quite attractive, and Charlie makes a date with a particularly sexy soccer mom. Meanwhile, when two single mothers discover that Alan is newly available, they "hit" on him--literally.More
Air date: Oct 27, 2003
Charlie rethinks the way he treats women when he, Alan and Jake are forced to cheer up a pitiful Evelyn after her serious new boyfriend terminates their relationship. Meanwhile, Charlie teaches Jake some valuable lessons about screening calls from women, but the lesson backfires when Jake reveals a little too much about what he's learned to a disapproving Alan.More
Air date: Nov 3, 2003
Charlie's beautiful friend Cindy (KRISTIN DATTILO) frequently showers at Charlie's house after surfing. When Jake sees a butterfly tattoo on Cindy's partially nude behind and later draws a picture of it in his classroom, Judith gets angry and goes to talk with Alan and Charlie about letting her son see half naked women. To Alan's surprise, Judith and Cindy become friends. When Cindy teaches Judith how to surf, Alan wrongly suspects that the two women are sexually involved and confronts his estranged wife, who does not appreciate his assumptions. Meanwhile, Alan and Judith are both upset when Charlie teaches Jake about distinguishing women's fake implants from real breasts.More
Air date: Nov 10, 2003
When Alan and Judith argue during a rehearsal of a play that Jake and his classmates are rehearsing, Charlie is forced to handle a roomful of fourth graders alone. The kids think Charlie is a loser until they realize he wrote the "Maple Loops" cereal jingle. When Charlie discovers the children know every jingle he's ever written, he decides to use his commercial expertise to craft the play--with some interesting results.More
Air date: Nov 17, 2003
Charlie likes his sweet new girlfriend, Wendy (MYNDY CRIST), but he becomes concerned when Jake forms a strong friendship with her. When Wendy charms Evelyn as well, Charlie worries that Wendy is expecting more from the relationship than he is and ends it. But when Jake gets mad at him, Charlie learns an important lesson. Meanwhile, Alan takes playing his board game very seriously when competing against Rose.More
Air date: Nov 24, 2003
When Charlie finds out that his favorite former girlfriend, Lisa (DENISE RICHARDS - "Scary Movie 3," "Undercover Brother"), is getting married, he desperately tries to prove to her that he has become a better family man than her fiancÚ, despite his inability to commit to her. He persuades Judith to bring her parents and Jake to his house for a big family Thanksgiving dinner, along with Alan, Evelyn, Rose and Charlie's irritable housekeeper, Berta (recurring guest star CONCHATA FERRELL). But with that bunch, Charlie can only carry on the charade for so long.More
Show More Episodes
Two and a Half Men: Season 1 Trailers & Photos
Tv Season Info
Charlie Sheen and Jon Cryer star in this Emmy®-nominated comedy about two brothers and a precocious kid.
Genre:
Comedy
Network:
CBS
Premiere Date:
Sep 22, 2003
Creators:

Chuck Lorre

,

Lee Aronsohn

Executive Producers:

Chuck Lorre

,

Lee Aronsohn

,

Eric Tannenbaum

,

Kim Tannenbaum

,

Mark Burg

,

Oren Koules

,

Don Foster

,

Eddie Gorodetsky

,

Susan Beavers

,

Mark Roberts

,

Mark Roberts

Producers:

Chuck Lorre

,

Lee Aronsohn

,

Eric Tannenbaum

,

Kim Tannenbaum

,

Mark Burg

,

Oren Koules

,

Don Foster

,

Eddie Gorodetsky

,

Susan Beavers

,

Mark Roberts
News & Interviews for Two and a Half Men: Season 1
Friend Ratings for Two and a Half Men: Season 1
No Friends? Inconceivable! Log in to see what your friends have to say.
Login
Audience Reviews for Two and a Half Men: Season 1
There are no featured audience reviews yet. Click the link below to see what others say about Two and a Half Men: Season 1!
Discussion Forum
Discuss Two and a Half Men on our TV talk forum!