Weekend in Bangkok with Two Olympic Gymnasts
EPISODE: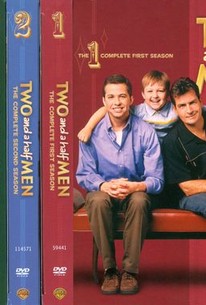 Episode Info
Charlie Harper (series star CHARLIE SHEEN) is a well-to-do bachelor with a house at the beach, a Mercedes in the garage and an easy way with women. His casual Malibu lifestyle was interrupted when his tightly wound brother, Alan (series star JON CRYER), and Alan's young son, Jake (series star ANGUS T. JONES), came to stay with him a couple of years ago. Complicating matters further are Charlie and Alan's narcissistic, emotionally toxic mother, Evelyn (series star HOLLAND TAYLOR), Alan's deeply neurotic ex-wife, Judith (series star MARIN HINKLE), Charlie's domineering, unapologetically blue-collar housekeeper, Berta (series star CONCHATA FERRELL--not appearing in this episode), and Rose (series star MELANIE LYNSKEY--not appearing in this episode), a brilliantly manipulative and vaguely crazy neighbor who had a brief fling with Charlie, remains obsessed with him and is determined to stay in his life by whatever means necessary. Despite the complexities of their lives and their own strained relationship, Charlie and Alan have one thing in common: They both love Jake and want what's best for him. As a result, they manage to create a little family unit that promises to make each one of them a better man. After Alan falls off the roof trying to fix the satellite dish, Charlie volunteers to take care of Jake for the weekend. While Charlie initially looks forward to watching his nephew, he quickly realizes that Jake's idea of fun--going out for fast food and renting video games--doesn't quite coincide with his own. Alan finally convinces Charlie that the situation will be more peaceful if Charlie simply agrees to Jake's demands. A power struggle ensues, with Jake initially winning--until he sabotages a potential date for Charlie. Meanwhile, Evelyn insists on arranging a blind date for Alan.
Weekend in Bangkok with Two Olympic Gymnasts Photos
Discussion Forum
Discuss Two and a Half Men on our TV talk forum!