Vincenzo: Season 1
(2021)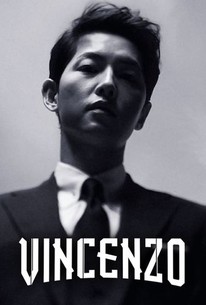 Rate And Review
Vincenzo: Season 1 Photos
There are no critic reviews yet for Vincenzo: Season 1. Keep checking Rotten Tomatoes for updates!
Audience Reviews for Vincenzo: Season 1
There's something really special about the way K-dramas meld drama, action, comedy, and romance—They're silly, serious, sensual, brutal, prescient, socially conscious, and million other things all wrapped into one series over one season. When they are good, they are really really good. Vincenzo, however, is sensational. I was genuinely disappointed to finish the season.

It's like this. The action is good, the drama is good, there's no dumb censorship on things, the comedy is good. But...it is sooo cheesy. Serious moments rarely last for long, some things don't really make sens at all and were done just so that the story could keep going, they take a lot of liberties with how real life actually is... In other words, if you don't mind the cheese and the soap-opera like plot, then this series is just fine! If not, you're going to get really bothered by this series while really wanting to know how it ends (and that every character gets what is coming for them).

I started watching and then I left it, I hate stupid gangsta movies, because the whole thing becomes the question of morality, the Mafia becomes good, falls in love have kids and the end. Vincenzo, it was like revisting childhood, it felt like I was reading a super funny brainy graphic novel , I was in awe of the character Vincenzo. It respects the idea of evil because we are really are not always good or right, we are bad too, and the lesson ushered by the main character will stay with me for life .It is an intelligent series, it was only unbelievable once when pigeon saves Vincenzo but I like that too because I am a romantic, rest was a very well researched plot with good looking people. After you have watched it, either you will become Vincenzo or you will want a Vincenzo of your own PS Vincenzo is beautiful ❤️

As someone who has been ridiculously invested in both South Korean and Italian culture for most of my life, this show has been an absolute godsend; especially during the Covid Lockdown. Vincenzo is not only a fantastic thriller, but a love letter to Gangster Films, Noir, Legal-Dramas, Heists & Comedy all wrapped into one charming (and incredibly well-mixed) package. From its amazing cast, most notably Song Joong-ki in the titular role, incredible score, stellar cinematography, perfectly written twists and turns, and bountiful life lessons that never once cross over into preachiness, Vincenzo simply excels. I will say, however, that my only gripe (and it's a nitpick at that) is the runtime, as I feel like the length of these episodes (almost averaging 1.5 hours each) at times was a bit too much for the content provided and may be a tad much for some viewers. That singular nitpick aside though, I cannot, for the life of me, remember the last time I was genuinely upset that I'd finished a television show. Vincenzo latches onto your heart and by the gods, it's hard to get it to let go. If you're a lover of any of the genres mentioned at the start of this review, you owe it to yourself to give this a watch. Enjoy! Final Rating: 4.5/5 Stars.

Brilliant. I'm someone who has accidentally got into KDramas due to lockdown, as I live in the UK. Vincenzo is a superb thriller, with comedy breaks in it to reduce the tension when it gets too taut. It has about 4 plots, sub-plots, and is (except for the occasional lapse) VERY well written. And the writers delight in mixing genres- gangster, legal drama, heists- to name but a few. And they delight in fooling the audience. It is EXTREMELY well cast. Song Joong-ki is phenomenal in the title role. Cool, a strategist, always elegantly suited and booted, he plays a Korean who was adopted by Italians and grew up in a Mafia family, rising to the role of consigliere. He uses his intellect against opponents, taking on corrupt lawyers, politicians, businessmen, judges, prosecutors. But he can also be extremely violent when necessary. Jeon Yeo-been is also well cast as a feisty, designer clad, relentless, sharkish corporate lawyer Hong Cha-young, turned fighter for justice who becomes his partner in legal vigilantism after her idealistic father is murdered by corporate baddies. The villains are many. And varied in their villainy. K-Dramas can do female villains extremely well, some are absolutely frightening and Kim Yeo-jin was a standout as a truly evil woman, Choi Myung-hee, a lawyer more deadly than any thug. I dont want to spoil things but kudos to Ok Taecyeon as Jang Jun Woo. He has an unexpected and VERY well acted character arc. The supporting cast were amazing. I became a huge fan of the actors who portrayed the shopkeeper-residents of an ageing mall...where years before a Chinese criminal and Vincenzo had hidden in a vault under the mall basement, billions worth of gold bars statues... and a usb stick with info on corrupt bigshots in Korea that could bring down the rich and powerful. Vincenzo's departure from Italy after a brief power struggle, returning to Korea to retrieve the gold, is the catalyst for a roller coaster chain of events that had me and my family gasping, shrieking, hiding our eyes, and bingeing on this dramatic feast. I can't recommend it too highly.

The best serie I've ever seen. There isn't enough words to described what this masterpiece is because it certainly isn't like other series I watched. Everything was so thoughtful and the actors did such an amazing job to show their characters. There isn't a single thing that's bad with this s and if you haven't seen it, you can't say that you are a true fan of films and series because this is a must watch.

This tv show caught my attention since the first minute of the first episode, it's really good and made me want to watch it non-stop! Amazing characters and well done plot!

The dorama Vincenzo, directed by Kim Hee Won, began to be released worldwide on February 20, 2021. Dorama immediately gained popularity and "soared" in the rating. The plot of the dorama is incredible and creates a powerful atmosphere. A lawyer and consigliere in one of the mafia families, Vincenzo Cassano returns to Korea on his business, which he plans to finish as soon as possible, but on his way there are several bad people who consider themselves stronger than the mafia from Italy. Can, t beat than watching very bad people fail, it's such a good laugh Acting skills are at the highest level. The beautiful man Song Joon Ki very well conveys the atmosphere of the Italian mafia, which you begin to enjoy, but I have to admit that the main character also played her role well. In general, the entire cast incredibly played their roles. In general, the Dorama Vincenzo in a short time became one of my favorite doramas, I will hope for season 2.

Absolutely stunning cinematography, superb acting, brilliant writing, and characters I will never forget. Bravo. Well done!