The Punishment Light
EPISODE: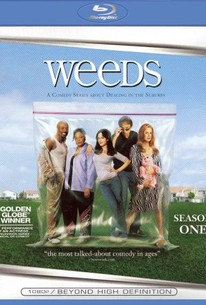 Episode Info
After the unveiling of Judah's headstone, Shane (Alexander Gould) goes to a karate tournament, where he bites the foot of his first opponent, Tim (Daryl Sabara of the Spy Kids movies). After Nancy's (Mary-Louise Parker) embarrassed, babbling apology, Tim's father, Peter (Martin Donovan, who played Parker's love interest in Saved!) invites the Botwin family out to dinner. Nancy is clearly smitten with Peter. She has a little too much to drink and kisses him, but beats a quick retreat, and tells him, "I am so not ready for this." At the Hodes house, Celia (Elizabeth Perkins) tells Dean (Andy Milder) all about her tawdry tryst with Conrad (Romany Malco), leading to the no-holds-barred fight their marriage has been building toward for years. Back at home, Andy (Justin Kirk) and Doug (Kevin Nealon) are very stoned, and very determined to catch a rat that is stalking the Botwin kitchen. Nancy comes home to find the house a wreck. Worse yet, Lupita (Renee Victor) has a roll of pennies for her from Alejandro (Vincent Laresca), the rival drug dealer who's been stalking her. He's waiting outside in his car, so Nancy, fed up and desperate, takes the BB gun Andy's been using on his rat hunt, and drives off, leading Alejandro to a deserted alleyway, where Nancy finds a surprising way to deal with her problems.
The Punishment Light Photos
Discussion Forum
Discuss Weeds on our TV talk forum!