SEASON: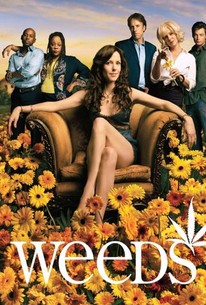 Episodes
Air date: Aug 14, 2006
Season two of HBO's pot-themed sitcom gets underway as Celia makes a bid for City Council and Nancy attempts to end her relationship with DEA agent Peter due to her illegal lifestyle. Meanwhile, Sanjay makes a substantial mix-up at the bakery and Andy applies to Rabbinical school in an effort to avoid being shipped off to Iraq.More
Air date: Aug 21, 2006
After breaking up with the DEA agent (Martin Donovan), Nancy attends a small-business expo devoted to growing pot; Conrad canvasses partners in an attempt to come up with seed money for his own marijuana enterprise. Also, Megan (Shoshannah Stern) gets accepted into Princeton, and Silas feels like he may be getting left behind.More
Air date: Aug 28, 2006
Peter (Martin Donovan) deals with the fact that Nancy's a drug dealer; Celia sends Isabelle to a weight-loss boot camp in preparation for her summer stay at fat camp; Shane crosses the threshold of puberty.More
Air date: Sep 4, 2006
There's progress on the grow house until a menacing neighbor makes an unexpected and surprising threat; Uncle Andy has a solution when Shane gets ridiculed in school because of his limited sexual experience; Heylia is courted by a member of the Nation of Islam; Dean gets downsized from the firm; Isabelle is offered a job modeling a clothing line for larger children.More
Air date: Sep 11, 2006
Nancy gets a special favor from a special friend in her neighborhood war with her main competition, the Armenian dealers; Megan goes by herself to tell her parents she's pregnant; Isabelle auditions as a model for a large-kids' clothing line; Celia debates Doug; at school, Shane gets caught bragging about his visit to a massage parlor.More
Air date: Sep 18, 2006
Conrad confronts Nancy about her special arrangement with Peter (Martin Donovan) and she secretly arranges a three-way meeting; new model and sole family breadwinner Isabelle hires Doug to manage her finances; Vaneeta dishes out some sizzling hostility over dinner with Heylia's new Muslim boyfriend; Shane has a crush on a girl in his debating club; Andy discovers Yael's fetish.More
Air date: Sep 25, 2006
Nancy deals with the aftermath of the neighborhood drug bust and Andy's growhouse faux pas; a balloting error impacts the results of Celia and Doug's city-council race.More
Air date: Oct 2, 2006
The new weed is ready and Nancy's first sale is to a record engineer who wows his boss, Snoop Dogg (as himself), with the potent pot; Celia brings her anti-drug program to Agrestic Elementary School; Heylia discovers that Nancy and Conrad have been dealing behind her back.More
Air date: Oct 9, 2006
Peter (Martin Donovan) pressures Nancy to get out of the business; Shane realizes what his mother does for a living; Doug and Celia discover that politics really does make for strange bedfellows; Silas, Shane and Andy commemorate the late Judah's birthday with a special celebration.More
Air date: Oct 16, 2006
With the DEA coming down hard on Heylia, she pressures Nancy to right some wrongs; Nancy and Conrad try to put Peter off the trail; Celia and Doug's affair heats up; Andy's loopy ex (Zooey Deschanel) arrives unannounced from Alaska.More
Show More Episodes
Tv Season Info
Season 2 of the black-humored show opens with pot-dealing mom Nancy Botwin (Mary-Louise Parker) making a discovery about her new beau (Martin Donovan) and falling deeper into the perilous drug realm. In other developments, Nancy and Conrad team up to rent a "growhouse"; Celia runs for city council against Doug; Silas' relationship with Megan is tested; Nancy's children become more aware of her illegal activities; and Nancy and Conrad set out to finalize their monumental pot deal.
Genre:
Drama
Network:
Showtime
Premiere Date:
Aug 14, 2006
Creator:
Executive Producers:
Audience Reviews for Weeds: Season 2
There are no featured audience reviews yet. Click the link below to see what others say about Weeds: Season 2!
Discussion Forum
Discuss Weeds on our TV talk forum!