Pass On The Feelings! Hand-Holding Genie
EPISODE: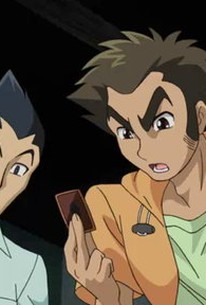 Episode Info
Jack beats Yoshizo by countering against Speed World 2's effects, and now faces against Team Taiyo's second member, Junbei, who summons another Holdin Hands Majin. Junbei remembers when he got mad and ran away from home, encountering a man named Mizuru in a sports car. Whilst accompanying him, Mizuru knocks a thug member's duel runner and is chased. When some of Mizuru's friends get captured and Mizuru is too scared to go back, Junbei goes back to face the thugs, and is rescued by Taro and Yoshizo. Back in the present, Jack tries a trick to knock both him and Junbei out, but Junbei manages to survive the attack. Crow continues the battle, who uses the combined efforts of Blackwing Armor Master and Black-Winged Dragon to defeat Junbei. As Taro enters the duel, Yusei suspects that Taro has a plan that will cause them to lose within a few turns.
Pass On The Feelings! Hand-Holding Genie Photos
Discussion Forum
Discuss Yu-Gi-Oh! 5D's on our TV talk forum!