The Hitcher
(1986)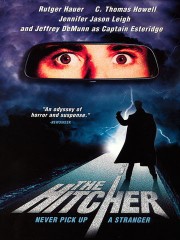 The Hitcher Trailers & Photos
Movie Info
This routine slasher film is greatly enhanced by the ethereal quality of its evocative cinematography and a haunting score that foretells pending doom. Otherwise, the pendulum swings between car crashes and slasher killings all the way through until the predictable end. Jim Halsey (C. Thomas Howell) stops to pick up serial murderer John Ryder (Rutger Hauer) on a long haul through Texas while driving a Cadillac to its destination. Before he gets the car back up to 65 again, Jim realizes he has a wacko for a passenger and throws him out. Revenge is in store as the crazed Ryder starts killing off anyone Jim meets along his way. Desperate for help, Jim's flight from the killer becomes a flight from the police as well, since they think he is responsible for the trail of deaths that follow in his wake.
more
Cast
News & Interviews for The Hitcher
Critic Reviews for The Hitcher
Audience Reviews for The Hitcher
This was an amazing thrill ride one of the best ive ever seen. Rutger Hauer is awesome in this role.
MisterYoda ?
Super Reviewer
The Hitcher Quotes
Jim Halsey: What do you want?
John Ryder: I want you to stop me.
John Ryder: Gas stations have cigarettes.
Jim Halsey: What about gas?
John Ryder: I don't need gas.
Jim Halsey: What do you want? What's so funny?
John Ryder: (stops Laughing) - That's what the other guy said.
Jim Halsey: What other guy?
John Ryder: That guy back there, the one we just passed. The guy who picked me up before you did.
Jim Halsey: That was him in there?
John Ryder: Sure it was. He couldn't have walked very far.
Jim Halsey: Why's that?
John Ryder: Because I cut off his legs, and his arms, and his Head. And I'm going to do the same to you.
Jim Halsey: (yelling to the family driving in a car beside his; after seeing the Hitcher in their backseat) - Hey! Pull over! Pull over! The guy in your car's a nut! That guy's a fu*king nut in your car! Pull over! That guy will kill you! That guy, get him out of your car!
John Ryder: (John leaps into the police truck that Jim is driving) - Hi kid!
Discussion Forum
Discuss The Hitcher on our Movie forum!
News & Features