The Land That Time Forgot
(1975)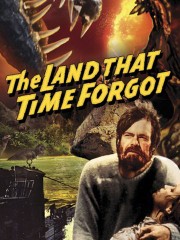 Tickets & Showtimes
The Land That Time Forgot Trailers & Photos
Movie Info
In this low budget fantasy adventure from Britain, based on Edgar Rice Burroughs' 1918 science fiction novel, a German submarine holding American prisoners of war during World War I, veers off course. Lost at sea, the submarine empties its fuel supply and runs aground on an uncharted island in the Antarctic. The survivors find that the island contains an ancient oil refinery that can be used to fuel the submarine. The only problem is that the group of Germans and Americans have to battle gigantic dinosaurs and primitive cavemen as they make their way through the island. The Land That Time Forgot was enough of a success to spawn a 1976 sequel called The People That Time Forgot.
more
Cast
News & Interviews for The Land That Time Forgot
Critic Reviews for The Land That Time Forgot
Audience Reviews for The Land That Time Forgot
From The MGM Midniote Movies Double Feature collection, I've watched this a million times on TV over the years and might have even seen it in the drive in when it first come out, made when here in the US and Britain the Germans were still not to be trusted. A cargo ship is sunk by a German U boat and when it surfaces the crew in life boats take over the German sub, they end up lost and in the Land that Time Forgot, a land with dinosaurs and cave men. Nothing outstanding a good Sunday afternoon film. 3 stars
11-08-12.
Bruce Bruce
Super Reviewer
½
To children this will no doubt be an exciting film full of cool monsters and tense moments.
As an adult I found it to have blatantly racist and Imperialistic undetones and was a bit bothered by the fact that they spent much of the movie thoughtlessly slaughtering all of the inhabitants (both beast & human) of "The Forgotten Land" with little regard.
Normally it's easy for me to over look these sorts of things in older films, but this wasn' THAT old! And they just kept KILLING everything! : P
If you can get past that, it was a (mostly) enjoyable sci-fi journey and it was fun seeing Colin Farrell as a young lad in a very minor role.
One can't help but see similarities to the original "Land Of The Lost" as well, they even have their own "Chaka"!
I must give them credit for a surprisingly bleak ending, which was rather unexpected.
Discussion Forum
Discuss The Land That Time Forgot on our Movie forum!
News & Features