The Music Man
(1962)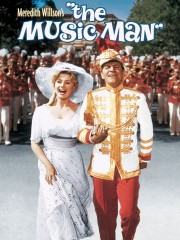 Tickets & Showtimes
The Music Man Trailers & Photos
Movie Info
After nearly 900 performances on stage, the hit Broadway musical and play The Music Man comes to the big screen. Harold Hill (Robert Preston) is a traveling con man who lands in River City, Iowa in the year 1912. He alerts the town to the evils of the poolhall and the potential to corrupt the town's youth. The solution is to form a musical band and put musical instruments instead of pool cues in the hands of the moppets. He convinces the townsfolk to give him plenty of money to buy marching band uniforms and musical merchandise. He meets fellow con man Marcellus Washburn (Buddy Hackett) who aids in the scheme. Marian Paroo (Shirley Jones) is the local librarian suspicious of Harold's motives. Harold doesn't know a thing about music, but has a system where wishing will make it so. Hill is almost whisked off to jail when a fellow con man warns Marian of the possible scam. Hill also does nothing to endear himself to Mayor Shinn (Paul Ford) who happens to own the pool hall of such disrepute. The Music Man is a colorful slice of nostalgic Americana and the song and dance film was nominated for Best Picture. Ray Heindorf won an Oscar for his musical direction. Memorable songs from the production include the finale "76 Trombones", "Till There Was You" and "Gary, Indiana." In one of the most glaring omissions by the Motion Picture Academy, Preston was not even nominated for his brilliant, memorable performance. This role marked one of the many highlight of his long and distinguished career, and his name is synonymous with the film. The classic was produced and directed by Morton DaCosta, who performed in similar capacity on the stage play.
more
Cast
News & Interviews for The Music Man
Critic Reviews for The Music Man
Audience Reviews for The Music Man
Jim Hunter
Super Reviewer
One of a kind film. It really showed what music can do to people.
erika bruhns
Super Reviewer
Meredith Wilson's sparkling filmization of the landmark Broadway musical about a traveling con artist salesman and the small town he dupes. Rousing Americana's best asset is Robert Preston's memorable performance as Professor Harold Hill. His sunny portrayal brightens every scene he's in. Virtually one musical number after another, there are moments of the sublime ("Seventy-Six Trombones", "Till There Was You") and the expendable ("Gary, Indiana"). The latter contributes to film's almost unbearable 151 minute running time. A bit of editing and perhaps a less stagebound production would have made this a near-perfect adaptation. Nevertheless those minor infractions are far outweighed by the joyous singing and dancing that is on display in this most appealing musical.
The Music Man Quotes
Harold Hill: We got trouble! Right here in River City! With a capital T that rhymes with P that stands for pool!
Eulalie MacKechnie Shinn: One Grecian urn... [pick-a-little ladies pose]
Eulalie MacKechnie Shinn: Two Grecian urns... [different pose]
Eulalie MacKechnie Shinn: And a fountain! [yet another pose]
Zaneeta Shinn: It's indecent to meet boys at the footbridge!
Tommy Djilas: he answers Zaneeta: First thing after supper?
Winthrop Paroo: she answers Tommy: All right! Ye Gods!
Harold Hill: Mothers of River City, heed that warning before it's too late! Watch for the telltale signs of corruption! The minute your son leaves the house, does he rebuckle his knickerbockers below the knee? Is there a nicotine stain on his index finger? A dime-novel hidden in the corncrib? Is he starting to memorize jokes from Captain Billy's Whiz-Bang? Are certain words creeping into his conversation? Words like 'swell' and "so's your old man"? If so my friends, ya got trouble!
Winthrop Paroo: No, thank you, AMARYLLITH! [Winthrop had an embarressing lisp]
Harold Hill: Ladies and gentlemen, either you are closing your eyes to a situation you do not wish to acknowledge, or you are not aware of the caliber of disaster indicated by the presence of a pool table in your community!
Marcellus Washburn: Well, ain't no call for a boys' band in this town. Anything these Iowa people don't have already, they do without.
Tommy Djilas: Mayor Shinn, your honor, your daughter and I have been going steady behind your back.
Discussion Forum
Discuss The Music Man on our Movie forum!
News & Features