Scanners
(1981)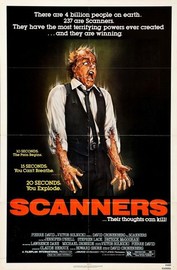 Tickets & Showtimes
Scanners Trailers & Photos
Movie Info
The title of this David Cronenberg sci-fi horror film refers to a group of people who have telekinetic powers that allow them to read minds and give them the ability to make other people's heads explode. The children of a group of women who took an experimental tranquilizer during their pregnancies, the scanners are now adults and have become outcasts from society. But Darryl (Michael Ironside) decides to create an army of scanners to take over the world. The only person who can stop him is his brother Cameron (Stephen Lack), who wants to forget that he was ever a scanner. Winner of the International Fantasy Film Award at the 1983 Fantasporto Film Festival, Scanners was followed by a pair of sequels, neither of which involved Cronenberg. ~ Matthew Tobey, Rovi
more
Sony Pictures Home Entertainment
Cast
News & Interviews for Scanners
Critic Reviews for Scanners
Audience Reviews for Scanners
A special-effects driven mixed bag of a movie about a group of special people called "scanners" who have the ability to read peoples minds, or if they decide they do not like them or need to make a point, make their heads explode. However, when one ruthless, murdering man named Revok (Michael Ironside) threatens to use his powers to attempt to take over the world, another scanner, Vale (Stephen Lack) makes it his mission to stop him at any cost. The plot is fairly cliché and predictable to a point, with Ironside outshining Lack's performance by a mile thanks to the great intensity and ferocity he gives whenever he is on the screen. It is a largely entertaining movie but it could have used more fleshing out of the story line, one that attempted to throw out at least some surprises once in a while. Far from director David Cronenberg's best works, but ironically, this is the movie that put him on the map so to speak.
In this sci-fi horror action film from David Cronenberg, the Scanners of the title refer to a group of humans who possess extraordinary and immensely powerful telepathic and telekinetic abilities which essentially sees them becoming social outcasts.

When one of them, Darryl Revok goes rogue and plans to create a scanner army to take over the world, another, Cameron Vale is recruited by a shady corporation named ConSec to bring Revok down.

This film is all over the place. I described it as sci-fi horror action, and while it has some of those qualities, it also kind of exists in its own unique unclassifiable bubble. It's also got mixings of class warfare, prejudice against the superior-abled, and a sense of psychedelia combined with anti-authoritarianism. It's definitely a Cronenberg film alright.

It's a very dated film, but in a pretty cool way. I liked that it reeked of the early 80s, as it gives the proceedings a unique vibe and atmosphere, and a sense of style that you don't really see today. I think we need a lot more chrome and stuff that's blood red in color.

The film does have an eerie and unnerving atmosphere and tone that really help enhance the ridiculous and nutty plot. This is further helped by the set design, cinematography, effects, and Howard Shore's creepy score.

The acting from the lead is admittedly pretty bland and distracting, but Michael Ironside is wonderfully batty and menacing as Revok.

All in all, a weird film, and a bit of a mess. But it's got some cool ideas, is technically well made, and is pretty entertaining, so yeah, give it a watch.
Chris Weber
Super Reviewer
Scanners Quotes
Revok: There's a whole generation of scanners soldiers just a few months away from being born. We'll find them. Train them to be like us. Not like Obrist and their band of cripples. We'll bring the world of normals to their knees. We'll build an empire so brilliant, so glorious. We'll be the envy of the whole planet.
Revok: This was a test campaign used in 1947 to market a new product. The product was a drug, a tranquilizer called 'Ephemerol'. It was aimed at pregnant women. If it had worked, it would have been marketed all over North America. But the campaign failed and the drug failed, because it had a side effect on the unborn children. An invisible side effect.
Vale: It created scanners.
Vale: Ephemerol. Ephemerol is creating new scanners.
Vale: [sees that Kim has had a nosebleed] What happened?
Kim: I was scanned. The woman in the waiting room...
Vale: She scanned you??
Kim: No, not her. Her child. Her unborn child scanned me.
Discussion Forum
Discuss Scanners on our Movie forum!
News & Features