Stray Dog (Nora inu)
(1963)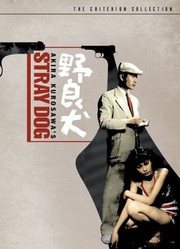 Stray Dog (Nora inu) Trailers & Photos
Movie Info
Akira Kurosawa directs the black-and-white 1949 film noir Nora Inu (released in the U.S. in 1963 as Stray Dog). In his third film with Kurosawa, Toshiro Mifune plays young police detective Murakami. One summer day on a crowded bus in Tokyo, his gun is stolen by a pickpocket. Rather than face the shame of reporting his gun missing, he chooses to go out and find it himself (there were not many weapons on the streets of Tokyo immediately following WWII). While trying to locate the gun, he discovers an entire criminal underworld. He is eventually helped on his journey by superior officer Sato (Takashi Shimura), who seems to suggest that the young detective is indulging in his own criminal desires. The search becomes even more desperate when Murakami finds out that his gun has been used in several crimes, including murder. He then develops an obsession with finding both the gun and the killer. ~ Andrea LeVasseur, Rovi
more
Cast
News & Interviews for Stray Dog (Nora inu)
Critic Reviews for Stray Dog (Nora inu)
Audience Reviews for Stray Dog (Nora inu)
½
Probably the most amazing thing about this film is that the plot is so simple and basic, yet the film is so much more than that. It's another one of Akira Kurosawa's contemporary films, this time being set in (then) contemporary post-war Japan. It's a nice film noir story about a rookie police detective who gets his gun stolen by a pickpocket. He decides to save face by going out and getting it back on his own instead of reporting it missing. That's pretty well it.

What makes the movie so much more than that is how the film is executed. There's all kinds of heavy philosophical themes and great character development going on, and that's awesome. This is an example of what a typical American cop drama/police procedural show might be like if it was treated like an arthouse project and directed by someone like Kurosawa if not the man himself. Parts of it also have a strong documentary style feel, particularly the lengthy montage scene wherein the lead roams througout the seedy underbelly of the city and discovers a hidden criminal underworld.

The performances are great. Toshiro Mifune is wonderful and reliable as always, and the guy playing his mentor is also quite spectacular. Those two are the standouts, but the other players are pretty decent as well. I also loved the mood, tone, and atmosphere of things, and the great sense of continually building suspense and tension.

I really wish more cop dramas could or would be made with this much care and intelligence, because this is just some top notch storytelling and filmmaking. It feels a little longer than it is, and kinda loses a bit of steam here and there, but those are really my only gripes.

Definitely give this one a shot.
Chris Weber
Super Reviewer
½
While someone could make the argument that all cinema is poetic in certain ways, no set of films personify cinematic poetry more than the films of Akira Kurosawa. Even in his earlier films such as Stray Dog, he gives the viewer a generous bounty to chew on. Not only is this a noir influence crime drama, but a priceless time capsule of the Japanese experience in the aftermath of a devastating World War. In the vein of Italian Neorealism, Kurosawa captures the essence of everyday life in a land ravaged by war. While the film focuses on Detective Murakami's (Toshiro Mifune) pursuit to find his missing Colt from the criminal Yusa, Kurosawa doesn't give us a cut and dry story of good versus evil. In fact, the story is rather messy. Like the characters in this story, all of Japan is in the grasps of what appears to be bedlam. Filmed in 1949, Japan's black market was still running rampant during this time and the film features a lengthy montage of actual footage of the black market. In a time with such rampant poverty, class disparity, and widespread vice, the film begs the question what constitutes crime when the entire land is beset by turmoil? Kurosawa is constantly blurring the lines between good and bad and in one particularly compelling scene has both the "hero" and "villan" wrestling in some mud and coming out looking nearly identical.
The film also oscillates between rapidly paced scenes with quick edits and long static takes in which Kurosawa really takes his time in telling the story. This can be rather laborious to watch for someone who has grown up on a steady diet of Transformers and Fast and Furious. In many scenes where the action seems to be near a climax, Kurosawa lets his characters light a cigarette in the middle of a pivotal exchange. Tedious as it may seem for some to get through, Kurosawa let's you really revel in the moment. If you take the director up on his invitation rather than throw your hands up in vexation, there is much on screen to reward you.
There are some skillfully choreographed shots that put many modern films to shame. Also, much like his other films Rashomon and Ikiru, he focuses heavily on the weather to symbolize either the beauty or the turbulence that the characters are experiencing internally. These are just a few examples of the many motifs that Kurosawa employs. Although it is one of his earlier pieces, it certainly illuminates Kurosawa's exceptional proficiency in terms of filmmaking.
Discussion Forum
Discuss Stray Dog (Nora inu) on our Movie forum!
News & Features